Ticket Centre at National Palace of Culture, Sofia, 1, "Bulgaria" Square
Phones: (+359 2) 916 63 00; (+359 2) 916 64 00
Working time:
Monday - Friday: 09:00 - 20:30 h
Saturday & Sunday: 10:00 to 20:00 ч.
Tickets online
BlackKklansman
director – Spike Lee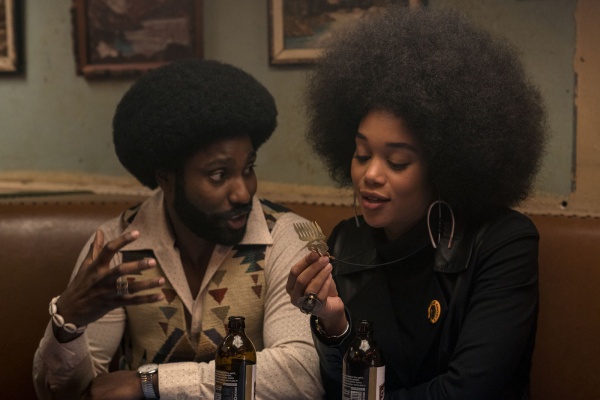 Trailer
USA, 2018, 134 min
director – Spike Lee
producers – Sean McKittrick, Jason Blum, Ray Mansfield, Jordan Peele, Spike Lee and Shaun Redick
script – Charlie Wachtel, David Rabinowitz, Kevin Willmott and Spike Lee
based on the book by Ron Stallworth
camera – Chayse Irvin
editor – Barry Alexander Brown
music – Terence Blanchard
production designer – Curt Beech
costume designer – Marci Rodgers
A FOCUS FEATURES/LEGENDARY PICTURES/PERFECT WORLD PICTURES/QC ENTERTAINMENT/BLUMHOUSE PRODS./
MONKEYPAW PRODS./40 ACRES AND A MULE FILMWORKS production
intl. sales – UNIVERSAL PICTURES
awards:
Cannes – Grand Jury Prize
Locarno – Audience Award
cast:
John David Washington (Ron Stallworth), Adam Driver (Flip Zimmerman), Laura Harrier (Patrice Dumas), Topher Grace (David Duke), Robert John Burke (Chief Bridges), Harry Belafonte (Jerome Turner)
In the late '70s Ron Stallworth becomes Colorado Spring's first African-American police officer. On a whim, rookie Stallworth calls a number in a newspaper advertisement for the Ku Klux Klan and soon enough makes arrangements for a meeting. He gets fellow cop Flip Zimmerman to attend the meeting. Over the coming months, Stallworth conducts the investigation on the phone, while Zimmerman does all the personal interactions with the Klan members. All the while, the two cops know that they are taking a huge risk with the hateful, gun-wielding and potentially violent Klansmen. Lee is in top form as he ratchets up the tension. While BlacKkKlansman plays as a highly entertaining cop thriller, Lee also finds room for humour and romance. He pays homage to Blaxploitation films, while referencing the impact of cinema on race relations from The Birth of a Nation to Tarzan and Gone with the Wind.
Screenings:
Sunday, 18 November 2018, 20:00, Lumiere Lidl
Saturday, 24 November 2018, 18:15, Lumiere Lidl
Ticket Centre at National Palace of Culture, Sofia, 1, "Bulgaria" Square
Phones: (+359 2) 916 63 00; (+359 2) 916 64 00
Working time:
Monday - Friday: 09:00 - 20:30 h
Saturday & Sunday: 10:00 to 20:00 ч.
TICKETS:
National Palace of Culture, Hall 1 – 12 lv.; reduction for students and retired people – 10 lv.
Opening Gala – The Time Is Ours – 10/8 lv.
Cinema Lumiere, Cinema House, Cinema Odeon, G8 and Euro Cinema – 10/8 lv.
Children Films – 7/5 lv.
Bulgarian Premieres – Away from the Shore, Living Chimneys, My Sister's Silence – 8/5 lv.
Bergman's Retrospective and program "Classic Pleasures" – 7/5 lv.
NPC Tickets Online