Ticket Centre at National Palace of Culture, Sofia, 1, "Bulgaria" Square
Phones: (+359 2) 916 63 00; (+359 2) 916 64 00
Working time:
Monday - Friday: 09:00 - 20:30 h
Saturday & Sunday: 10:00 to 20:00 ч.
Tickets online
Red / Rojo
director and screenwriter – Benjamin Naishtat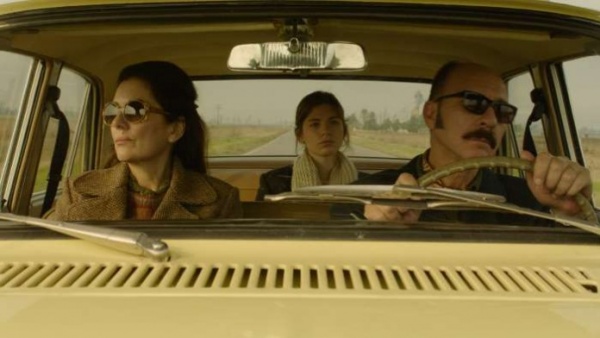 Trailer
Argentina-Belgium-Brazil-Germany-France-Switzerland, 2018, 109 min
director and screenwriter – Benjamin Naishtat
producers – Barbara Sarasola-Day and Federico Eibuszyc
camera – Pedro Sotero
editor – Andres Quaranta
music – Vincent van Warmerdam
art director – Julieta Dolinsky
A PUCARA CINE/DESVIA/ECCE FILMS/VIKING FILM/SUTOR KOLONKO
co-production
intl. sales – LUXBOX
awards and nominations:
3 awards from San Sebastian – for best direction, actor to Dario Grandinetti and cinematography
Toronto – Competition "Platform"
cast:
Dario Grandinetti (Claudio), Andrea Frigerio (Susana), Alfredo Castro (Detective Sinclair), Diego Cremonesi (Stranger), Laura Grandinetti (Paula)
The '70s and early '80s in Argentina were the time of the military dictatorship, when many people disappeared. With Rojo, Benjamín Naishtat approaches this turbulent era in his country's history obliquely and mysteriously. He deliberately builds a quiet mood of foreboding and impeding doom through a carefully constructed, almost hypnotic narrative.
Claudio is a middle-aged, happily married lawyer with a comfortable life in a deceptively placid small town. One night he enters a restaurant where he is verbally attacked by a mysterious stranger, their altercation continuing on the street outside. A few months later a friend comes to see Claudio about an abandoned house that he is interested in buying. These two separate scenes are the foundations of Naishtat's spellbinding, slow-burn suspense drama. With the arrival of a Chilean private detective who is intent on locating the abusive stranger, the film draws us into a scenario where nothing is as it seems and startling secrets are revealed.
If Rojo bears elements of a thriller, it is only to service a subtle and devastating dissection of the times.
Screenings:
Tuesday, 20 November 2018, 21:00, Cinema House
Wednesday, 28 November 2018, 18:30, Lumiere Lidl
Thursday, 29 November 2018, 20:30, Odeon
Ticket Centre at National Palace of Culture, Sofia, 1, "Bulgaria" Square
Phones: (+359 2) 916 63 00; (+359 2) 916 64 00
Working time:
Monday - Friday: 09:00 - 20:30 h
Saturday & Sunday: 10:00 to 20:00 ч.
TICKETS:
National Palace of Culture, Hall 1 – 12 lv.; reduction for students and retired people – 10 lv.
Opening Gala – The Time Is Ours – 10/8 lv.
Cinema Lumiere, Cinema House, Cinema Odeon, G8 and Euro Cinema – 10/8 lv.
Children Films – 7/5 lv.
Bulgarian Premieres – Away from the Shore, Living Chimneys, My Sister's Silence – 8/5 lv.
Bergman's Retrospective and program "Classic Pleasures" – 7/5 lv.
NPC Tickets Online