Ticket Centre at National Palace of Culture, Sofia, 1, "Bulgaria" Square
Phones: (+359 2) 916 63 00; (+359 2) 916 64 00
Tickets online
A Rainy Day in New York
director and screenwriter – Woody Allen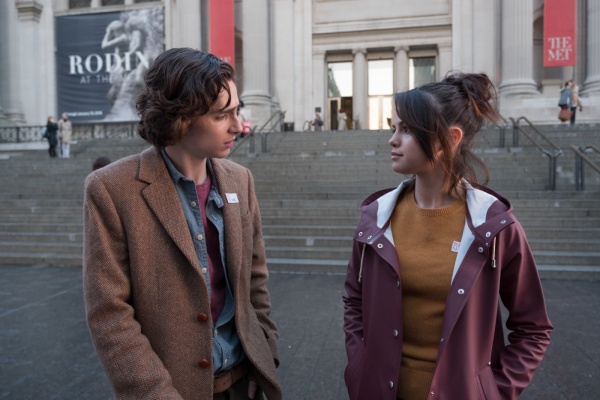 Trailer
USA, 2019, 92 min.
director and screenwriter – Woody Allen
producers – Erica and Letty Aronson
camera – Vittorio Storaro
editor – Alisa Lepselter
production designer – Santo Loquasto
costume designer – Suzy Benzinger
A GRAVIER PRODUCTIONS/PERDIDO PRODUCTIONS production
intl. sales – FILMNATION
BG distributor – PRO FILMS
cast:
Timothee Chalamet (Gatsby Welles), Elle Fanning (Ashleigh), Selena Gomez (Shannon), Liev Schreiber (Roland Pollard), Jude Law (Ted Davidoff), Rebecca Hall (Connie), Diego Luna (Francisco Vega)
A Rainy Day in New York takes place in Woody's New York – beautiful and romantic. Gatsby Welles is a college kid from a very rich Upper East Side family with an older, successful brother and and much older parents. Gatsby is not much of a student. He comes into New York with his girlfriend, Ashleigh, who is at once naive about the adult world and urban life, but savvy enough about sex and relationships. The two of them are child like adults who know everything and nothing at the same time.
Ashleigh goes off to interview a famous director named Roland Pollard, who just finished a high budgeted flop. Gatsby goes on a day of adventure in the city while he waits for her. Among the people he encounters is the young actress Shannon. They have instant chemistry.
Funny and charming, A Rainy Day in New York is the most romantic Woody Allen movie of latest years, virtuously shot bythe three times Oscar winner, the ace cinematographer Vittorio Storaro.
Ticket Centre at National Palace of Culture, Sofia, 1, "Bulgaria" Square
Phones: (+359 2) 916 63 00; (+359 2) 916 64 00
Working time:
Monday - Friday: 09:00 - 20:30 h
Saturday & Sunday: 10:00 to 20:00 ч.