Ticket Centre at National Palace of Culture, Sofia, 1, "Bulgaria" Square
Phones: (+359 2) 916 63 00; (+359 2) 916 64 00
Working time:
Monday - Friday: 09:00 - 20:30 h
Saturday & Sunday: 10:00 to 20:00 ч.
Tickets online
Gloria Bell
director and screenwriter – Sebastian Lelio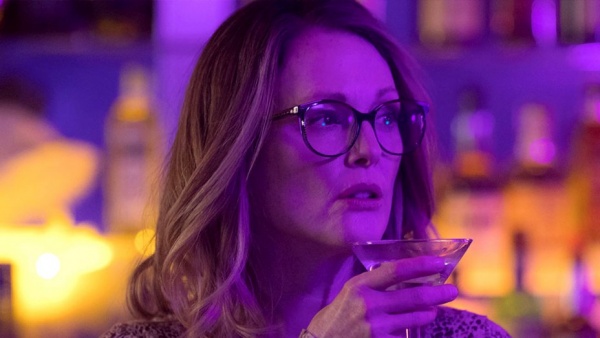 Trailer
Chile-USA, 2018, 102 min
director and screenwriter – Sebastian Lelio
producers – Juan de Dios Larrain, Pablo Larrain and Sebastian Lelio
exec. producers - Julianne Moore, Shea Kammer, Rocio Jadue, Ben Browning, Glen Basner, Milan Popelka and Alison Cohen
camera – Natasha Braier
editor – Soledad Salfate
music – Matthew Herbert
production designer – Shannon Walsh
A FILMNATION ENTERTAINMENT/FABULA co-production
intl. sales – FILMNATION
BG distributor – SONY PICTURES CLASSICS
cast:
Julianne Moore (Gloria Bell), John Turturro (Arnold), Michael Cera (Peter), Brad Garrett (Dustin), Caren Pistorius (Anne), Barnara Sukowa (Melinda)
This year's foreign-language Oscar winner – Sebastian Lelio, returns with a remake of his breakthrough, transporting the eponymous Gloria to Los Angeles and casting the inimitable Julianne Moore to play her.
Gloria adores her adult children, but she's interested in being more than a grandmother. She loves to spend her evenings dancing in singles clubs, hoping to meet Mr. Right. It all seems to be falling into place when she meets the recently divorced Arnold, who falls for her bright smile and sees the beauty behind her oversized glasses. But Arnold's ex-wife and grown-up daughters have an unhealthy hold on him, and it seems he doesn't know how to let go of the past.
Drawing dazzling energy from his new cast and locations, Lelio follows Gloria as she navigates midlife romance and figures out what she truly wants. While we can all sympathize with Arnold – and Turturro has never been more comically vulnerable — it's Gloria we're always rooting for. Moore's take on the character is a fresh revelation: while maintaining Gloria's feisty spirit and eagerness to connect, she discovers just how satisfying it can be to dance alone.
Diana Sanchez

Screenings:
Thursday, 22 November 2018, 19:30, Euro Cinema
Saturday, 24 November 2018, 19:30, G-8 Cinema
Tuesday, 27 November 2018, 19:00, Lumiere Lidl
Wednesday, 28 November 2018, 20:45, Cinema House
Thursday, 29 November 2018, 18:30, Odeon
Ticket Centre at National Palace of Culture, Sofia, 1, "Bulgaria" Square
Phones: (+359 2) 916 63 00; (+359 2) 916 64 00
Working time:
Monday - Friday: 09:00 - 20:30 h
Saturday & Sunday: 10:00 to 20:00 ч.
TICKETS:
National Palace of Culture, Hall 1 – 12 lv.; reduction for students and retired people – 10 lv.
Opening Gala – The Time Is Ours – 10/8 lv.
Cinema Lumiere, Cinema House, Cinema Odeon, G8 and Euro Cinema – 10/8 lv.
Children Films – 7/5 lv.
Bulgarian Premieres – Away from the Shore, Living Chimneys, My Sister's Silence – 8/5 lv.
Bergman's Retrospective and program "Classic Pleasures" – 7/5 lv.
NPC Tickets Online