Ticket Centre at National Palace of Culture, Sofia, 1, "Bulgaria" Square
Phones: (+359 2) 916 63 00; (+359 2) 916 64 00
Working time:
Monday - Friday: 09:00 - 20:30 h
Saturday & Sunday: 10:00 to 20:00 ч.
Tickets online
Legend of the Demon Cat – Director's Cut / Kukai
director – Chen Kaige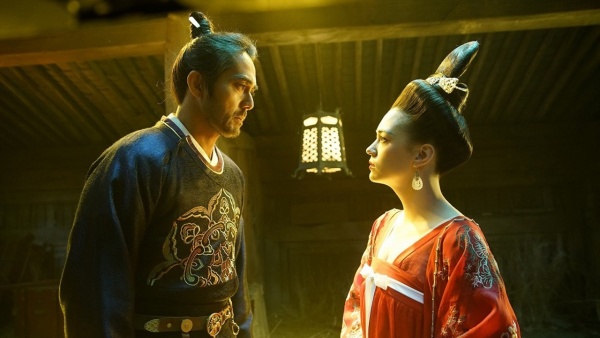 Trailer
China-Hong Kong-Japan, 2018, 120 min
director – Chen Kaige
producer – Chen Hong
script – Wang Hui-ling and Chen Kaige
based on the novel by Baku Yumemakura
camera – Cao Yu
editor – Li Dianshi
music – Klaus Badelt
production designers – Wei Lu and Nan Tu
costume designer – Tongxun Chen
An EMPEROR FILM PROD. CO./NEW CLASSICS MEDIA/KADOKAWA/
BEIJING 21 CENTURY SHENGKAI FILM co-production
intl. sales – MOONSTONE ENTERTAINMENT
cast:
Shota Sometani (Kukai), Huang Xuan (Bai Letian), Sandrine Pinna (Yang Guifei), Hiroshi Abe (), Kitty Zhang Yuqi (Chunqin)
With his epic screen adaptation of Baku Yumemakura's bestselling novel, Legend of the Demon Cat, director Chen Kaige returns to big budget cinema with an enchanting and visually stunning tale of love, intrigue, mysticism, and poetry set in a fantasized vision of the Tang dynasty.
Central to the story are two key historical figures: Bai Juyi, one of the greatest Chinese poets — whose lyrics embodied the spirit of the Tang dynasty and became a style model for Japanese literature — and Japanese monk Kûkai, who first brought to Japan the secrets of esoteric Buddhism.
Kûkai travels to China to study. Once there, he is summoned to court to use his exorcisms to cure the possessed Emperor, Xuanzong. When he gets to the palace, the Emperor dies before his eyes, but not before Kûkai detects what may have caused the death: a talking black cat, whose tufts of hair are scattered all over the Emperor's chamber. With the help of the poet Bai Letian, the monk identifies the cat as the restless spirit of Yang Guifei the imperial concubine murdered by the previous emperor.
The film's faithful reconstruction of the imperial capital Chang'an is a true marvel. A real city from the past was built over the course of five years (at an estimated cost of US$200 million), bringing to the screen the spellbinding magic of the times, an exquisite complement to Chen's masterful storytelling.
Screenings:
Saturday, 17 November 2018, 20:30, Odeon
Sunday, 18 November 2018, 18:15, Cinema House
Saturday, 24 November 2018, 21:00, Lumiere Lidl
Sunday, 25 November 2018, 17:15, G-8 Cinema
Ticket Centre at National Palace of Culture, Sofia, 1, "Bulgaria" Square
Phones: (+359 2) 916 63 00; (+359 2) 916 64 00
Working time:
Monday - Friday: 09:00 - 20:30 h
Saturday & Sunday: 10:00 to 20:00 ч.
TICKETS:
National Palace of Culture, Hall 1 – 12 lv.; reduction for students and retired people – 10 lv.
Opening Gala – The Time Is Ours – 10/8 lv.
Cinema Lumiere, Cinema House, Cinema Odeon, G8 and Euro Cinema – 10/8 lv.
Children Films – 7/5 lv.
Bulgarian Premieres – Away from the Shore, Living Chimneys, My Sister's Silence – 8/5 lv.
Bergman's Retrospective and program "Classic Pleasures" – 7/5 lv.
NPC Tickets Online