Ticket Centre at National Palace of Culture, Sofia, 1, "Bulgaria" Square
Phones: (+359 2) 916 63 00; (+359 2) 916 64 00
Working time:
Monday - Friday: 09:00 - 20:30 h
Saturday & Sunday: 10:00 to 20:00 ч.
Tickets online
"I Do Not Care If We Go Down in History as Barbarians" / "Îmi este indiferent dacă în istorie vom intra ca barbari
director and screenwriter – Radu Jude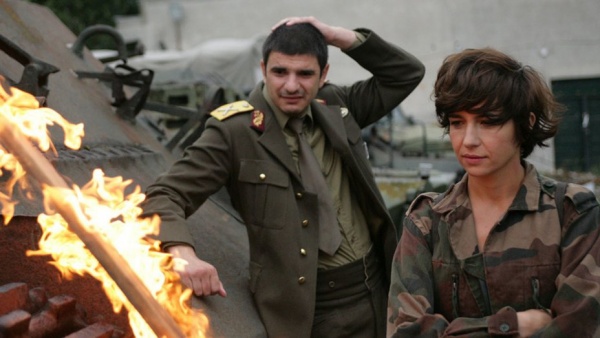 Trailer
Romania-Czech Republic-France-Bulgaria-Germany, 2018, 140 min
director and screenwriter – Radu Jude
producer – Ada Solomon
coproducers – Jiri Konecny, Janine Jackowski, Claire Dornoy, Serge Lalou, Rossitsa Valkanova, Maren Ade and Jonas Dornbach
camera – Marius Panduru
editor – Catalin Cristutiu
art director – Iuliana Vilsan
costume designer – Ciresica Cucius and Iuliana Vilsan
A HI FILM PROUCTIONS/ENDORFILM/LES FILMS D'ICI/KLAS FILM/
KOMPLIZEN FILM/ZDF/ARTE/TVR co-production
intl. sales – BETA CINEMA
BG distributor – PURPLE RAIN
awards:
2 awards from Karlovy Vary – Grand Prix "Crystal Globe" and Europa Cinemas Label Award
cast:
Ioana Iacob (Mariana), Alexandru Dabija (Movila), Alex Bogdan (Traian)
The words of the title were spoken by soldier-turned-prime minister Ion Antonescu, whose virulent anti-Semitism fuelled the ethnic cleansing of the 1941 Odessa Massacre. In Radu Jude's film, a young woman researching and rehearsing a pageant about the Romanian army's 'victory' in capturing Odessa repeatedly encounters obstacles and objections, both from the authorities (who would prefer a sanitised official story) and from locals hired as extras, who have their own ideas about heroes and villains. Typically rigorous, witty and cineliterate in examining the uncomfortable relationship between past and present, Jude's exhilaratingly freewheeling narrative channels both early Godard and Jancsó. Strong stuff.
Geoff Andrew
Screenings:
Sunday, 25 November 2018, 15:45, Cinema House
Monday, 26 November 2018, 19:15, G-8 Cinema
Tuesday, 27 November 2018, 18:30, Euro Cinema
Thursday, 29 November 2018, 19:00, Lumiere Lidl
Ticket Centre at National Palace of Culture, Sofia, 1, "Bulgaria" Square
Phones: (+359 2) 916 63 00; (+359 2) 916 64 00
Working time:
Monday - Friday: 09:00 - 20:30 h
Saturday & Sunday: 10:00 to 20:00 ч.
TICKETS:
National Palace of Culture, Hall 1 – 12 lv.; reduction for students and retired people – 10 lv.
Opening Gala – The Time Is Ours – 10/8 lv.
Cinema Lumiere, Cinema House, Cinema Odeon, G8 and Euro Cinema – 10/8 lv.
Children Films – 7/5 lv.
Bulgarian Premieres – Away from the Shore, Living Chimneys, My Sister's Silence – 8/5 lv.
Bergman's Retrospective and program "Classic Pleasures" – 7/5 lv.
NPC Tickets Online