Ticket Centre at National Palace of Culture, Sofia, 1, "Bulgaria" Square
Phones: (+359 2) 916 63 00; (+359 2) 916 64 00
Working time:
Monday - Friday: 09:00 - 20:30 h
Saturday & Sunday: 10:00 to 20:00 ч.
Tickets online
ТАНЦ ФИЛМ ФЕСТ
|
TICKETS
|
ACCREDITATIONS
|
What next?
|

Romeo and Juliet
director – Franco Zeffirelli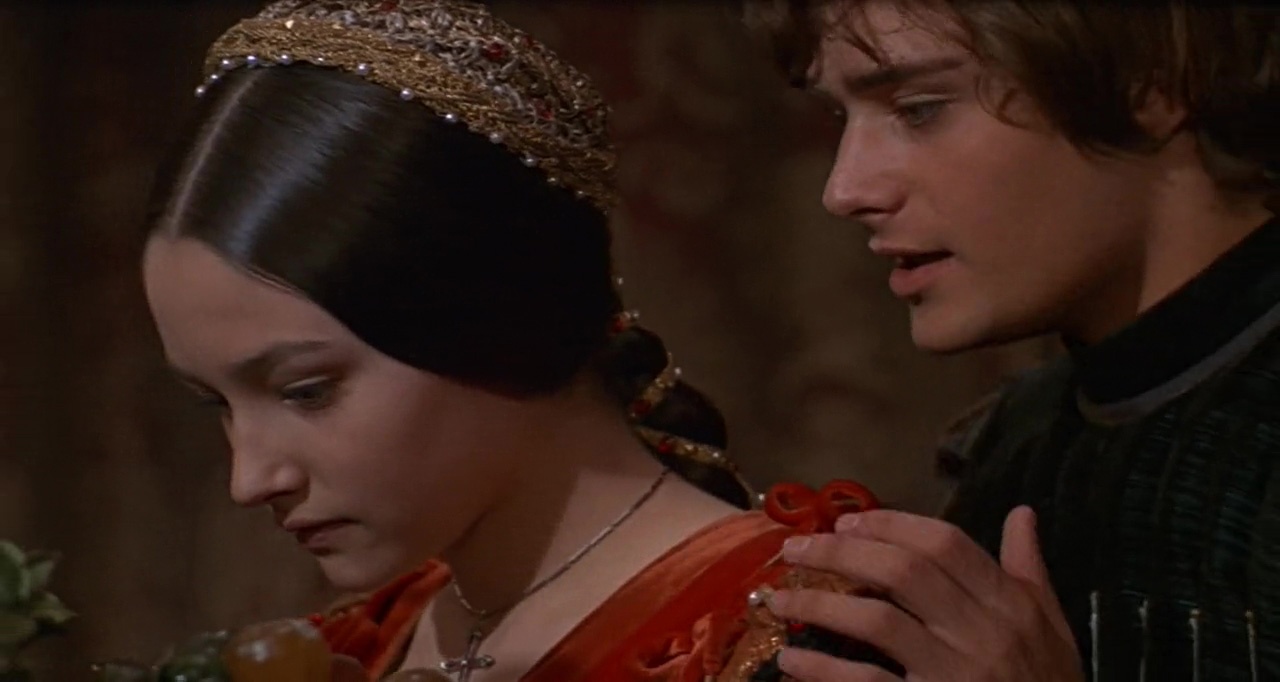 Trailer
United Kingdom-Italy, 1968, 152 min
director – Franco Zeffirelli
producers – Anthony Havelock-Allen and John Brabourne
script – Franco Brusati, Masolino D'Amico and Franco Zeffirelli
based on the play by William Shakespeare
camera – Pasqualino de Santis
editor – Reginald Mills
music – Nino Rota
production designer – Renzo Mongiardino
costume designer – Danilo Donati
A PARAMOUNT PICTURES/BHE FILMS/VERONA PRODUZIONE/DINO DE LAURENTIIS CINEMATOGRAFICA co-production
awards and nominations:
3 "Golden Globe" awards – for foreign English language film and rising stars to Leonard Whiting and Olivia Hussey
2 "Oscar" awards – for cinematography and costume design
"David di Donatello" for best direction
BAFTA for costume design
5 awards of the Italian Film Journalists – for direction, cinematography, music, production design and costume design
2 nominations for "Oscar" – for best film and direction
2 nominations for "Golden Globe" – for direction and music
6 nominations for BAFTA – for direction, supporting actor to John McEnery, supporting actress to Pat Heywood, editing, music and production design
Nomination from Directors Guild of America
cast:
Leonard Whiting (Romeo), Olivia Hussey (Juliet), Milo O'Shea (Friar Laurence), Michael York (Tybalt), John McEnery (Mercutio), Pat Heywood (The Nurse), Natasha Parry (Lady Capulet), Paul Hardwick (Lord Capulet), Robert Stephens (The Prince of Verona), Antonio Pierfederici (Lord Montague), Esmeralda Ruspoli (Lady Montague) and the voice of Laurence Olivier as the Narrator
With his instant classic adaptation, Zeffirelli dares to break the tradition for the parts of Romeo and Juliet to be cast older actors. He chooses the absolute debutants Leonard Whiting and Olivia Hussey, respectively at 17 and 15 at the time of shooting. The innocence of the main actors makes the most romantic scenes even more beautiful. Gracefully shot by the ace Pasqualino de Santis on location in Italy, Romeo and Juliet is one of the most inspired adaptations of Shakespeare at all, which is also thanks to the beautiful music of Nino Rota.
Screenings:
Sunday, 10 November 2019, 19:00, Lumiere Lidl
Ticket Centre at National Palace of Culture, Sofia, 1, "Bulgaria" Square
Phones: (+359 2) 916 63 00; (+359 2) 916 64 00
Working time:
Monday - Friday: 09:00 - 20:30 h
Saturday & Sunday: 10:00 to 20:00 ч.
NPC Tickets Online