***
НДК Зала 1: 12 лв. Намаление за ученици, студенти и пенсионери – 10 лв.
Специални събития: Моята страст към киното – вечер на Стефан Вълдобрев. Цени на билетите: 20, 25, 30 лв.
Кино Люмиер, Дом на киното, Филмотечно кино "Одеон", Влайкова, Френски институт, Културен център G 8, Euro Cinema: 10 лв.Намаление за ученици, студенти и пенсионери – 8 лв.
Human Voice and Classic Pleasures: BGN 7. Discount for pupils, students and pensioners - BGN 5.
Ticket Centre at National Palace of Culture, Sofia, 1, "Bulgaria" Square
Phone: (+359 2) 916 63 69
Tickets online
VR mania in Hall 4, National Palace of Culture. The ticket is for 45 minutes of viewing works of the viewer's choice. Sessions are every 30 minutes. Price - BGN 20.
Itinerary of a Spolied Child / Itinéraire d'un enfant gâté
director and screenwriter – Claude Lelouch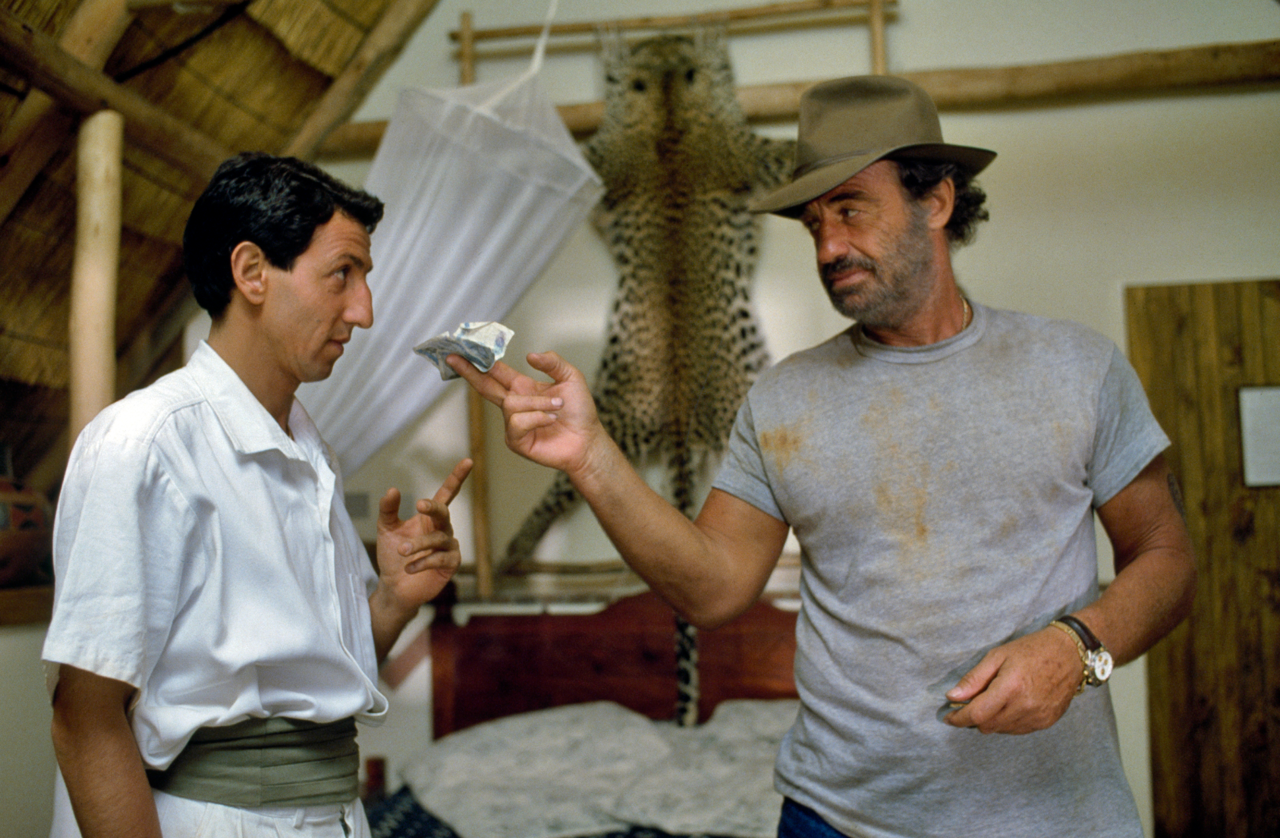 Trailer
Itinerary of a Spolied Child / Itinéraire d'un enfant gâté
France, 1988, 125 min
director and screenwriter – Claude Lelouch
producers – Jean-Paul Belmond and Claude Lelouch
camera – Jean-Yves Le Mener
editor – Sophie Bhaud
music – Francis Lai
production designer – Jacques Bufnoir
A LES FILMS 13/CERITO FILMS/STALLION FILM production
intl. sales – METROPOLITAN FILMS
awards and nominations:
"Cesar" for best actor to Jean-Paul Belmondo
2 nominations for "Cesar" – for actor to Richard Anconina and music
cast:
Jean-Paul Belmondo (Sam Lion), Richard Anconina (Albert Duvivier, named Al), Lio (Yvette), Beatrice Agenin (Corinne), Marie-Sophie L. (Victoria), Daniel Gelin (Pierrot Duvivier)
Sam was raised in a circus world, and later he was forced to became a businessman. After he turns 50, tired from work and too many relatives, he escapes in Africa. But his past catches him in the face of one of his former employees...
First opportunity for Jean-Paul Belmondo to interpret a man on his age and he demonstrates his genuine class in a film, filled by Claude Lelouch with dizzy shots, non-ordinary director's decisions and marvelous dialogues. Amidst the compelling emotion and brilliant comedy, a truly impossible screen couples has been formed: Belmondo and Richard Anconia are a perfect match and their talent grace this story about chance to shape your destiny by yourself.
Screenings:


Sunday, 28 November 2021, 14:30, Lumiere - BUY A TICKET
Wednesday, 1 December 2021, 19:00, Institut Francais
Thursday, 2 December 2021, 18:00, Odeon

National Palace of Culture, Hall 1 – 12 leva
Reduced price for retired people
and students –
10 leva
THE BELL – monoperformance of Deyan Donkov –
30, 40, 50 leva
Reduced price – 20 leva

***
French Institute, Cultural Center G8, Euro Cinema – 10 leva
VR screenings – 15 leva
Reduced price – 8 leva
The Human Voice and movies from "Classic Pleasures" – 7 leva