Ticket Centre at National Palace of Culture, Sofia, 1, "Bulgaria" Square
Phones: (+359 2) 916 63 00; (+359 2) 916 64 00
Working time:
Monday - Friday: 09:00 - 20:30 h
Saturday & Sunday: 10:00 to 20:00 ч.
Tickets online
Them / Loro
director – Paolo Sorrentino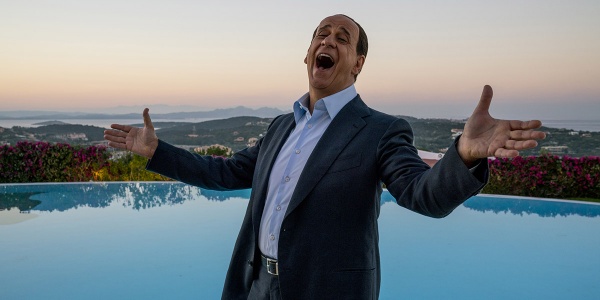 Trailer
Italy-France, 2018, 150 min.
director – Paolo Sorrentino
producers – Nicola Giuliano, Francesca Cima, Carlotta Calori and Viola Prestieri
script – Paolo Sorrentino and Umberto Contarello
camera – Luca Bigazzi
editor – Cristiano Travaglioli
music – Lele Marchitelli
production designer – Stefania Cella
costume designer – Carlo Poggioli
An INDIGO FILM/PATHE FILM/FRANCE 2 CINEMA co-production
intl. sales – PATHE INTERNATIONAL
BG distributor – NATIONAL PALACE OF CULTURE
selections:
Toronto – program "Masters"
cast:
Toni Servillo (Silvio Berlusconi), Elena Sofia Ricci (Veronica Lario), Riccardo Scamarcio (Sergio Morra), Kasia Smutniak (Kira), Euridice Axen (Tamara), Fabrizio Bentivoglio (Santino Recchia), Anna Bonaiuto (Cupa Caiafa)
For the second time in his career, Paolo Sorrentino satirizes the tumult of Italian politics through the experiences of an infamous politician. While his hypnotic Il Divo dramatized the downfall of long-serving former Italian Prime Minister Giulio Andreotti, Loro's hyperkinetic inspiration is the controversial tycoon/ex-PM Silvio Berlusconi, a man who in real life is still running for office.
It is a corrosive and wildly profane comedy, skewering both its subject and modern Italy itself. Sorrentino places us in the seedy orbit of Sergio (Riccardo Scamarcio), a handsome young guy-on-the-make whose ambition is to leave his provincial southern city of Taranto for Rome and get close to Berlusconi. His means of doing so is sordid but highly effective. Trafficking beautiful young women as escorts to attend parties and events proves to be his stepping stone into the halls of power. Once Sergio has arrived, so to speak, the increasingly embattled Berlusconi becomes the focus.

Through some of the most imaginative sequences in his filmography, Sorrentino elicits a towering performance from Servillo. Somehow boorish but charming, svelte but awkward, Berlusconi is depicted as a mass of contradictions, and the director is determined to treat him as more than a mere buffoon. Abandoned by his political allies, the fallen PM is left to fumble with the private realities behind his public scandals, and this is where the true power of Loro finally lies.
Piers Handling
Screenings:
Sunday, 25 November 2018, 19:00, NPC - Hall 1
Ticket Centre at National Palace of Culture, Sofia, 1, "Bulgaria" Square
Phones: (+359 2) 916 63 00; (+359 2) 916 64 00
Working time:
Monday - Friday: 09:00 - 20:30 h
Saturday & Sunday: 10:00 to 20:00 ч.
TICKETS:
National Palace of Culture, Hall 1 – 12 lv.; reduction for students and retired people – 10 lv.
Opening Gala – The Time Is Ours – 10/8 lv.
Cinema Lumiere, Cinema House, Cinema Odeon, G8 and Euro Cinema – 10/8 lv.
Children Films – 7/5 lv.
Bulgarian Premieres – Away from the Shore, Living Chimneys, My Sister's Silence – 8/5 lv.
Bergman's Retrospective and program "Classic Pleasures" – 7/5 lv.
NPC Tickets Online