Ticket Centre at National Palace of Culture, Sofia, 1, "Bulgaria" Square
Phones: (+359 2) 916 63 00; (+359 2) 916 64 00
Tickets online
|
АХ, ТОЗИ МЮЗИКЪЛ
|
ТАНЦ ФИЛМ ФЕСТ
|
TICKETS
|
What next?
|

Alexander Nevsky / Александр Невский
director – Sergei Eisenstein and Dmitry Vasiliev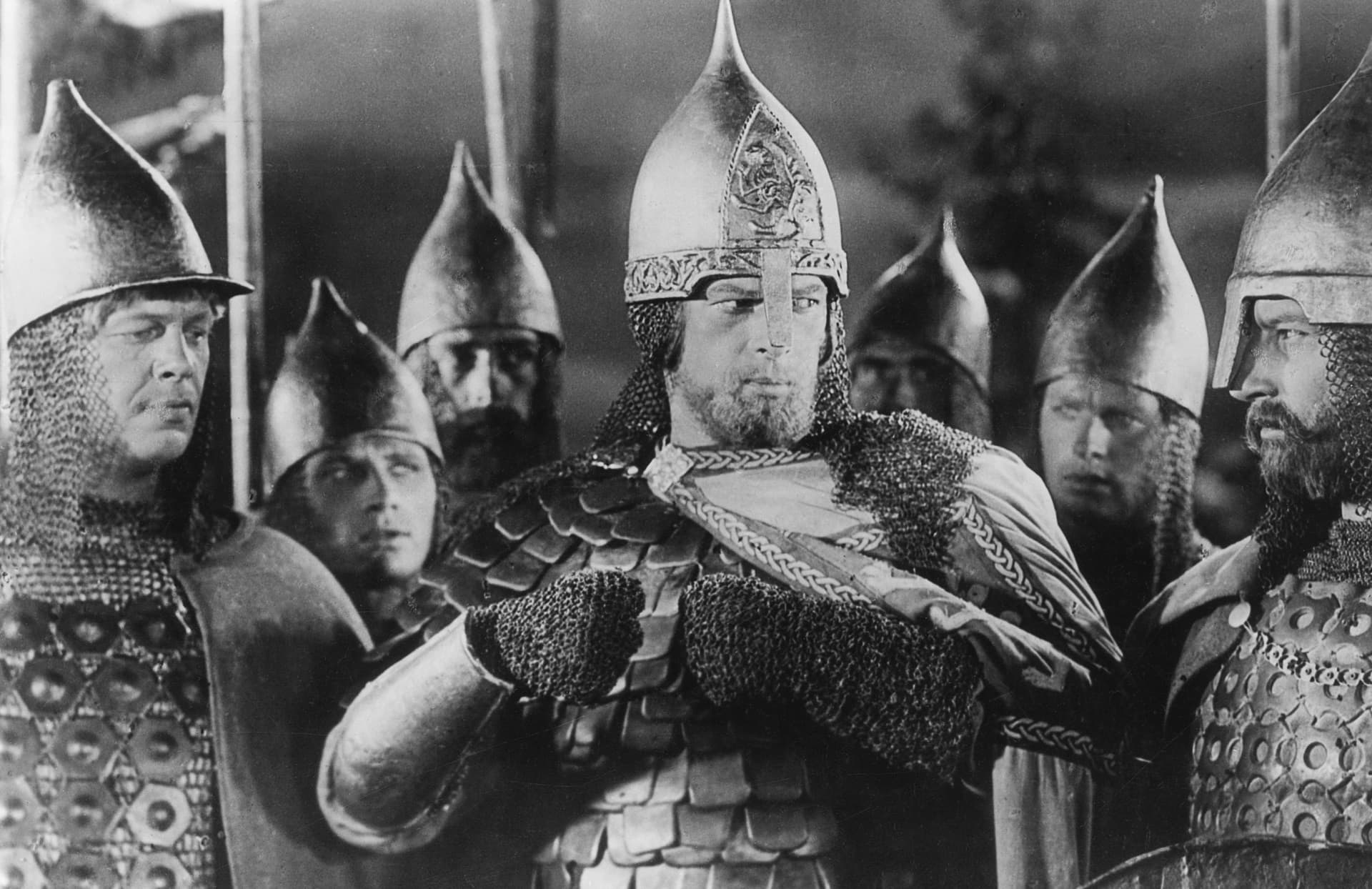 Trailer
USSR, 1938, 112 min, black & white
director – Sergei Eisenstein and Dmitry Vasiliev
script – Sergei Eisenstein and Pyotr Pavlenko
camera – Eduard Tisse
editor – Sergei Eisenstein
music – Sergei Prokofiev
art direction – Isaak Schpinel and Nikolay Solovyov, based on Eisenstein's sketches
A MOSFILM production
cast:
Nikolay Cherkasov (Prince Alexander Yraoslavich Nevsky), Nikolay Okhlopkov (Vasily Buslay), Andrey Abrikosov (Gavrilo Olexich), Dmitry Orlov (Ignat), Vasily Novikov (Pavsha, Pskov's Governor), Varvara Masalitinova (Amelfa Timofeevna), Vladimir Ershov (Von Blak, Grand Master of the Teutonian Order)
While Sergei Eisenstein's pioneering 1920's works, such as Battleship Potemkin (1925) and October (1928) formulated the innovative editing technique of montage and focused on the Soviet masses as collective hero, the films that were to follow in subsequent decades, Alexander Nevsky and Ivan the Terrible (1942/6) diptych, seem much more traditional both in formal terms and in their narrative focus upon the heroic individual.
Alexander Nevsky should not be viewed as a retreat from the cerebral cinematic explorations of the Eisenstein's earlier period but as an advance in developing his method to meet the political and technological demands of the time.
Dramatizing Prince Nevsky's drive to expel the brutal Teutonic Knights from 13th-century Holy Russia, the film draws on established literary and artistic means of representation and, given the extent to which the impressive pageant of action is fused with Prokofiev's stirring score, Eisenstein himself called the structure 'symphonic'.
Screenings:
Wednesday, 6 November 2019, 19:00, Lumiere Lidl -
Buy a ticket online
Monday, 11 November 2019, 18:30, Odeon
Wednesday, 20 November 2019, 20:00, Cinema House -
Buy a ticket online
Ticket Centre at National Palace of Culture, Sofia, 1, "Bulgaria" Square
Phones: (+359 2) 916 63 00; (+359 2) 916 64 00
Working time:
Monday - Friday: 09:00 - 20:30 h
Saturday & Sunday: 10:00 to 20:00 ч.