Ticket Centre at National Palace of Culture, Sofia, 1, "Bulgaria" Square
Phones: (+359 2) 916 63 00; (+359 2) 916 64 00
Tickets online
Pain and Glory / Dolor y gloria
director and screenwriter – Pedro Almodovar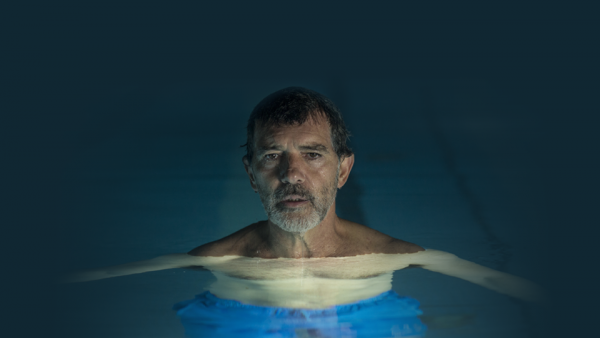 Trailer
Spain, 2019, 113 min
director and screenwriter – Pedro Almodovar
producer – Agustin Almodovar
camera – Jose Luis Alcaine
editor – Teresa Font
music – Alberto Iglesias
art director – Antxon Gomez
An EL PRIMER DESEO/EL DESEO production
intl. sales – FILMNATION
BG distributor – PRO FILMS
awards:
Cannes – Award for best actor to Antonio Banderas
cast:
Antonio Banderas (Salvador Mallo), Asier Etxeandia (Alberto Crespo), Penelope Cruz (Young Jacinta), Leonardo Sbaraglia (Federico Delgado), Nora Navas (Mercedes), Julieta Serrano (Older Jacinta), Cecilia Roth (Zulema), Raul Arevalo (Venancio Mallo)
Pedro Almodуvar has never made a film that couldn't be described as personal, but nothing will prepare you for the emotional nakedness of this mesmerizing drama about the many regrets and emotional loose ends of an aging filmmaker. Reuniting with the man who first put him on the map, Antonio Banderas gives the most tender performance of his career, playing a director who looks back at his life - at a falling-out with his favorite star, at his adolescent sexual awakening, at a love affair gone wrong, and at the struggles of his devout, impoverished mother. This is a monumental work from a monumental artist.
"We are friends with Pedro for 40 years now. The most difficult thing was, how am I going to be able to play him without imitating him? For me that was very important. I went to him like a plain soldier: I took off my medals; I took off everything and I tried to be as naked as I could, to create from scratch, with no mannerisms that I was using before, the things that you know as an actor work for you. This is very painful. You are in a very uncomfortable place. All of those comfort zones I eliminated, and then we started."
Antonio Banderas
Ticket Centre at National Palace of Culture, Sofia, 1, "Bulgaria" Square
Phones: (+359 2) 916 63 00; (+359 2) 916 64 00
Working time:
Monday - Friday: 09:00 - 20:30 h
Saturday & Sunday: 10:00 to 20:00 ч.