Ticket Centre at National Palace of Culture, Sofia, 1, "Bulgaria" Square
Phones: (+359 2) 916 63 00; (+359 2) 916 64 00
Tickets online
Brother Sun, Sister Moon / Fratello Sole, Sorella Luna
director – Franco Zeffirelli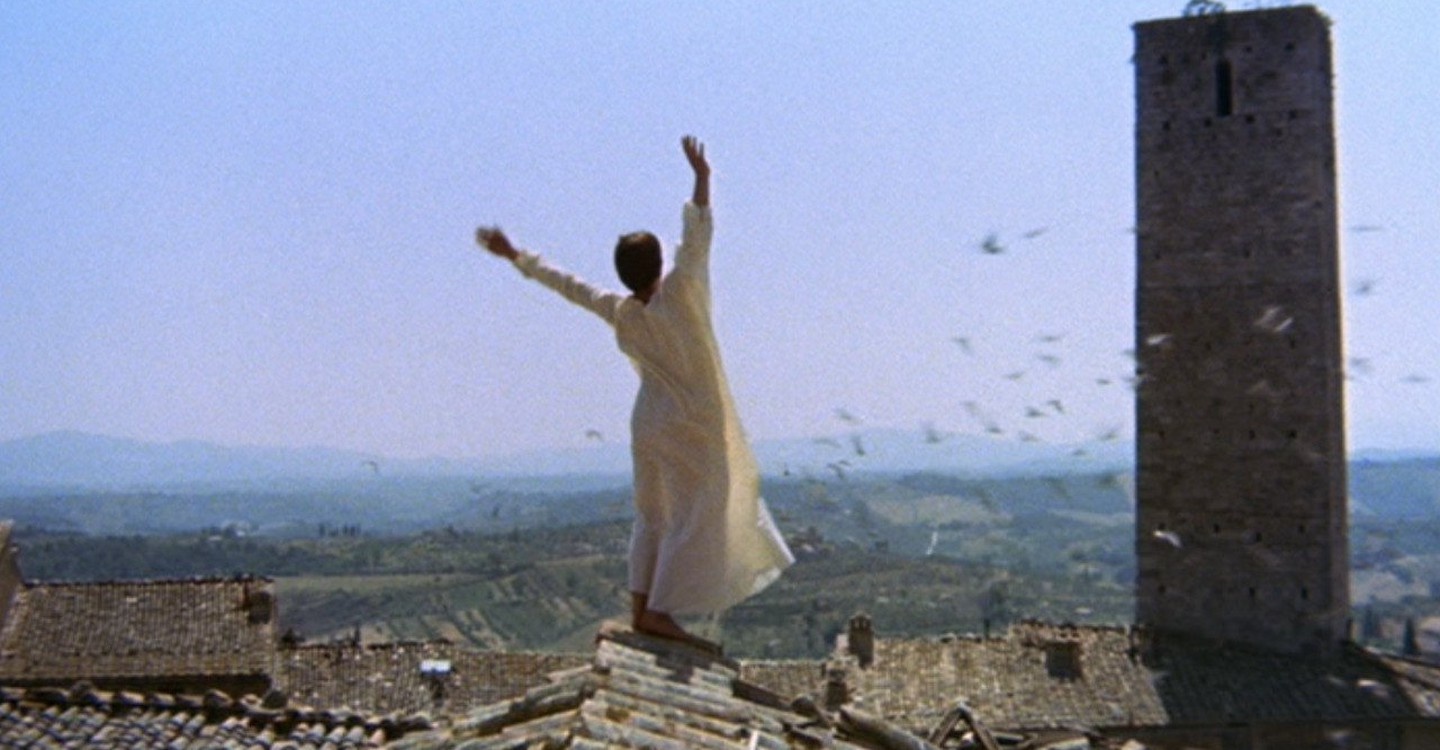 Trailer
Italy-United Kingdom, 1972, 122 min
director – Franco Zeffirelli
producer – Luciano Perugia
script – Suso Cecchi D'Amico, Kenneth Ross, Lina Wertmuller and Franco Zeffirelli
camera – Ennio Guarnieri
editor – Reginald Mills
music – Donovan
production designer – Renzo Mongiardino
costume designer – Danilo Donati
A VIC FILMS/EURO INTERNATIONAL FILM co-production
print – PARK CIRCUS
awards and nominations:
"David di Donatello" for best direction (tied with Sergio Leone for Giu la testa)
Award of the Italian Film Journalists for cinematography
Nomination for "Oscar" for production design
Nomination for BAFTA for costume design
cast:
Graham Faulkner (St. Francis of Assisi), Judi Bowker (Claire), Leigh Lawson (Bernardo), Kenneth Cranham (Paolo), Lee Montague (Pietro Di Bernardone), Valentina Cortese (Pica Di Bernardone), Alec Guinness (Pope Innocent III), Adolfo Celi (Consul)
St. Francis of Assisi was an extraordinarily complex and difficult figure whose effect on his contemporary society was electrifying. Even today, many people are moved by his visionary message of universal toleration. Twelfth-century Italy had an exceptionally grim and regimented society, but the barefoot monk from Assisi undoubtedly had the courage that comes from deep faith and was able to transcend the oppressiveness of the time. The contemporary (1970s) example of the hippie movement contributed a great deal to the style in which the story is told. The musical score, using ancient Italian melodies, was arranged by Donovan. The film is visually beautiful in a way which tends to minimize the squalor of the times. As the movie begins, Francis (Graham Faulkner) is the son of wealthy merchants, and enjoys his share of wine, women and song without serious thought. When war and disease devastate his neighborhood, Francis undergoes an anguished transformation which culminates in his appearing before the local bishop and removing his clothes to renounce his previous life and family before dedicating himself to God. The culminating dramatic moment is Francis' appearance before Pope Innocent III (Sir Alec Guinness), to make his case for an independent religious order under new rules.
Ticket Centre at National Palace of Culture, Sofia, 1, "Bulgaria" Square
Phones: (+359 2) 916 63 00; (+359 2) 916 64 00
Working time:
Monday - Friday: 09:00 - 20:30 h
Saturday & Sunday: 10:00 to 20:00 ч.