TICKETS:
НДК Зала 1: 12 лв. Намаление за ученици, студенти и пенсионери – 10 лв.
Специални събития: Моята страст към киното – вечер на Стефан Вълдобрев. Цени на билетите: 20, 25, 30 лв.
Кино Люмиер, Дом на киното, Филмотечно кино "Одеон", Влайкова, Френски институт, Културен център G 8, Euro Cinema: 10 лв.Намаление за ученици, студенти и пенсионери – 8 лв.
Човешкият глас и Класически удоволствия: 7 лв. Намаление за ученици, студенти и пенсионери – 5 лв.
Билетен център НДК, София, площад "България" 1
Телефони: (+359 2) 916 63 68, 916 63 69
Билети онлайн в Електронен билетен център - НДК
VR мания. Билетът е за 45 минути гледане на произведения по избор на зрителя. Сеансите са на всеки 30 минути. Цена – 20 лв.
Duck in Orange Sauce / L'Anatra all'arancia
director – Luciano Salce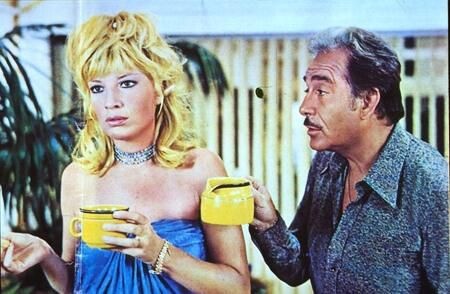 Trailer
Duck in Orange Sauce / L'Anatra all'arancia
Italy, 1975, 106 min.
director – Luciano Salce
producer – Mario Cecchi Gori
script – Bernardino Zapponi
based on the play by William Home and Marc Sauvageon
camera – Franco Di Giacomo
editor – Antonio Siciliano
music – Armando Trovajoli
production designer – Lorenzo Baraldi
A CAPITAL FILMS production
awards:
2 awards "David do Donatello" – for best actor to Ugo Tognazzi and best actress to Monica Vitti
cast:
Ugo Tognazzi (Livio Stefani), Monica Vitti (Lisa Stefani), Barbara Bouchet (Patty), John Richardson (Jean-Claude)
Married from 10 years, the rich family of Lisa and Livio like the small deviations and unfaithfulnesses. The balance between them is disturbed by the arrival of a young foreigner – Jean-Claude, who falls in love with Lisa, which is flattered by his courtings. Livio is trying to get rid of him, attacking his pride. And when Lisa agreеs to leave with her lover, he chases them sure that his wife will not abandone him.
Ugo Tognazzi and Monica Vitti are at the best of their comedian gift: their endless squabbles, the jeakousy, the tirades and the childish jokes just intensify the eternal charisma of these two legends of Italian cinema, simply perfect as rich and weary bourgeois couple.
Ticket Centre at National Palace of Culture, Sofia, 1, Bulgaria Square, T: +359 2 916 63 69
Lumiere, 1, Bulgaria Square, T: +359 2 916 6300
Cinema House, 37, Ekzarch Yosiff Str., T: +359 2 980 7838
Odeon, 1, Patriarch Evtimii Blvd, +359 2 989 24 69
Vlaykova, 11, Tsar Ivan Assen II Str, T: +359 892 22 68 68
French Institute, 3, Slaveykov Square, T: +359 2 937 79 22
Cultural Center G8, 8, Gladstone Str., T: +359 2 995 00 80
Euro Cinema, 17, Aleksandar Stamboliiski Blvd., T: +359 2 980 41 61

TICKETS:
National Palace of Culture Hall 1 – 14 leva
Reduced price – 12 leva
Lumiere, Cinema House, Odeon, Vlaykova, French Institute, Cultural Center G8, Euro Cinema – 12 leva
Reduced price – 10 leva
Classic Pleasures: 8 leva
Reduced price – 6 leva