***
НДК Зала 1: 12 лв. Намаление за ученици, студенти и пенсионери – 10 лв.
Специални събития: Моята страст към киното – вечер на Стефан Вълдобрев. Цени на билетите: 20, 25, 30 лв.
Кино Люмиер, Дом на киното, Филмотечно кино "Одеон", Влайкова, Френски институт, Културен център G 8, Euro Cinema: 10 лв.Намаление за ученици, студенти и пенсионери – 8 лв.
Human Voice and Classic Pleasures: BGN 7. Discount for pupils, students and pensioners - BGN 5.
Ticket Centre at National Palace of Culture, Sofia, 1, "Bulgaria" Square
Phone: (+359 2) 916 63 69
Tickets online
VR mania in Hall 4, National Palace of Culture. The ticket is for 45 minutes of viewing works of the viewer's choice. Sessions are every 30 minutes. Price - BGN 20.
Here I Am, Again!!!!
director – Polly Guentcheva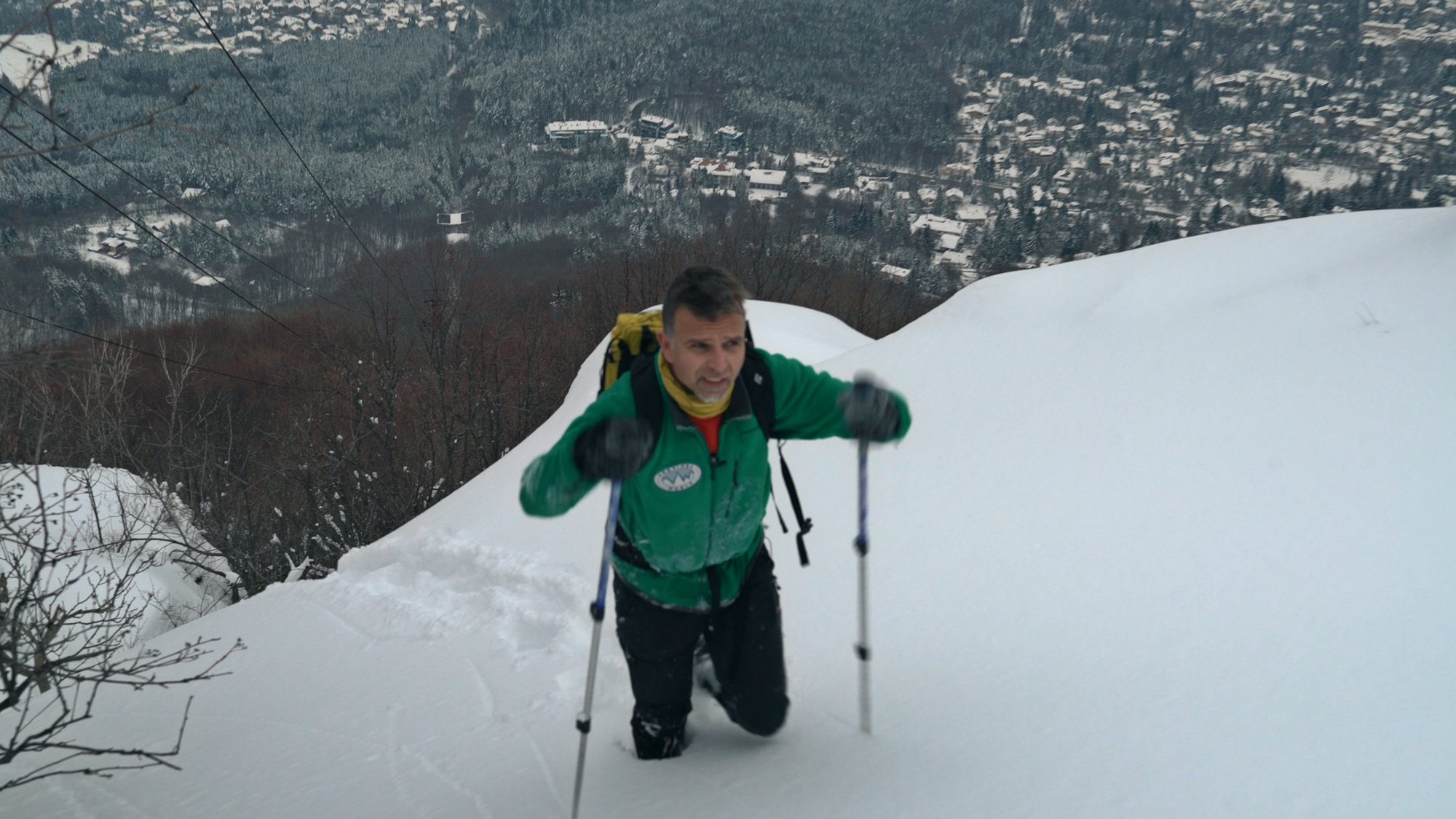 Trailer
Here I Am, Again!!!!
Bulgaria, 2021, 105 min, documentary
director – Polly Guentcheva
producers – Polly Guentcheva and Martichka Bozhilova
script – Polly Guentcheva and Nina Altuparmakova
camera – Krassimir Andonov
editrors – Nina Altuparmakova and Mikhail Dervensky
music – Georgi Strezov
A TARA TREE PICTURES/AGITPROP production
distributor – LENTA
awards:
Trento – City of Bolzano Award
with:
Boyan Petrov
Anyone else in his place would have given up, but not him. Just a month after narrowly surviving being hit by a car, high-altitude mountaineer and research-zoologist Boyan Petrov starts his recovery and long preparation to continue his dream - climbing all the fourteen 8,000-meter peaks. Without supplementary oxygen and 3 times cancer survivor, he has climbed all 10 of the 14 eight-thousanders.
Now it's time for the world's giant – Everest.
For the purpose, Boyan starts his journey by "warm-up" with the lowest peak among them - the so-called "dwarf" Shishapangma.
Number 11 on his bucket list.
An unexpected twist of fate leads to Boyan's disappearance just a few meters below the peak which activates an unprecedented interstate rescue mission and helicopter searches between the countries of Nepal, China, and Bulgaria.
This is an inspiring story that documents indomitable human spirit and strive to live.
This is a story that adds value and celebrates life.
A story that gives more of his dedication, his inspiration, his legacy.
Screenings:


Monday, 29 November 2021, 18:00, Lumiere - BUY A TICKET
Monday, 29 November 2021, 20:30, Lumiere - BUY A TICKET

National Palace of Culture, Hall 1 – 12 leva
Reduced price for retired people
and students –
10 leva
THE BELL – monoperformance of Deyan Donkov –
30, 40, 50 leva
Reduced price – 20 leva

***
French Institute, Cultural Center G8, Euro Cinema – 10 leva
VR screenings – 15 leva
Reduced price – 8 leva
The Human Voice and movies from "Classic Pleasures" – 7 leva