***
НДК Зала 1: 12 лв. Намаление за ученици, студенти и пенсионери – 10 лв.
Специални събития: Моята страст към киното – вечер на Стефан Вълдобрев. Цени на билетите: 20, 25, 30 лв.
Кино Люмиер, Дом на киното, Филмотечно кино "Одеон", Влайкова, Френски институт, Културен център G 8, Euro Cinema: 10 лв.Намаление за ученици, студенти и пенсионери – 8 лв.
Human Voice and Classic Pleasures: BGN 7. Discount for pupils, students and pensioners - BGN 5.
Ticket Centre at National Palace of Culture, Sofia, 1, "Bulgaria" Square
Phone: (+359 2) 916 63 69
Tickets online
VR mania in Hall 4, National Palace of Culture. The ticket is for 45 minutes of viewing works of the viewer's choice. Sessions are every 30 minutes. Price - BGN 20.
We Loved Each Other So Much / C'eravamo tanto amati
director – Ettore Scola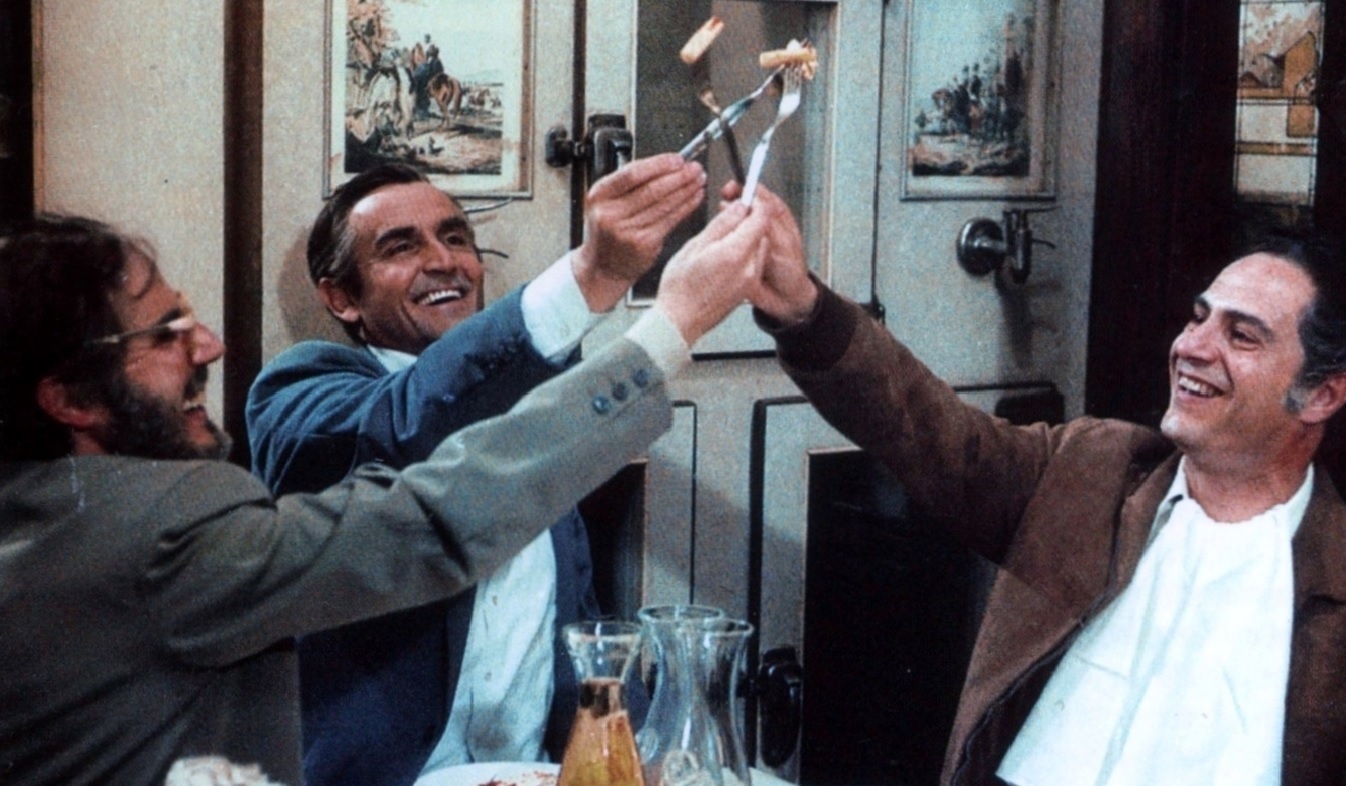 Trailer
We Loved Each Other So Much / C'eravamo tanto amati
Italy, 1974, 124 min
director – Ettore Scola
producer – Pio Angeletti and Adriano De Micheli
script – Age & Scarpelli and Ettore Scola
camera – Claudio Cirillo
editor – Raimondo Crociani
music – Armando Trovajoli
production and costume designer – Luciano Ricceri
A LA DEANTIR production
intl. sales – TRUE COLOURS
awards:
Moscow – Grand Prix
"Cesar" for foreign film
cast:
Nino Manfredi (Antonio), Vittorio Gassman (Gianni Perego), Stefania Sandrelli (Luciana Zanon), Aldo Fabrizi (Romolo Catenacci), Giovanna Ralli (Elide Catenacci), Stefano Satta Flores (Nicola Palumbo) and with Federico Fellini, Marcello Mastroianni and Mike Bongiorno as themselves
Film about life with its turns and disappointments, ups and downs, which presents to us three friends, gravitating around a woman in a crazy race, mixing the excesses, the humour and the suffering in a beautiful poem – tender, sweet and bitter as the life itself. The Brilliant script unfold the story through the uncertainty of the youth with almost farcical tone, to the fresco of the adult age, full with unexpected events. The characters gather together and separate, then rediscover themselves, until wrinkles appears on their foreheads, the hairs goes white, the gazes became wiser or are filled with bitterness… A hymn to the love of cinema, full with honorable references to De Sica, Battleship Potemkin, Renoir, Antonioni, Alain Resnais and even Fellini.
Screenings:


Tuesday, 23 November 2021, 18:00, Cinema House - BUY A TICKET
Tuesday, 30 November 2021, 18:00, Odeon
Saturday, 4 December 2021, 16:00, Lumiere - BUY A TICKET

National Palace of Culture, Hall 1 – 12 leva
Reduced price for retired people
and students –
10 leva
THE BELL – monoperformance of Deyan Donkov –
30, 40, 50 leva
Reduced price – 20 leva

***
French Institute, Cultural Center G8, Euro Cinema – 10 leva
VR screenings – 15 leva
Reduced price – 8 leva
The Human Voice and movies from "Classic Pleasures" – 7 leva