TICKETS:
НДК Зала 1: 12 лв. Намаление за ученици, студенти и пенсионери – 10 лв.
Специални събития: Моята страст към киното – вечер на Стефан Вълдобрев. Цени на билетите: 20, 25, 30 лв.
Кино Люмиер, Дом на киното, Филмотечно кино "Одеон", Влайкова, Френски институт, Културен център G 8, Euro Cinema: 10 лв.Намаление за ученици, студенти и пенсионери – 8 лв.
Човешкият глас и Класически удоволствия: 7 лв. Намаление за ученици, студенти и пенсионери – 5 лв.
Билетен център НДК, София, площад "България" 1
Телефони: (+359 2) 916 63 68, 916 63 69
Билети онлайн в Електронен билетен център - НДК
VR мания. Билетът е за 45 минути гледане на произведения по избор на зрителя. Сеансите са на всеки 30 минути. Цена – 20 лв.
The Forgiven
director and screenwriter – John Michael McDonagh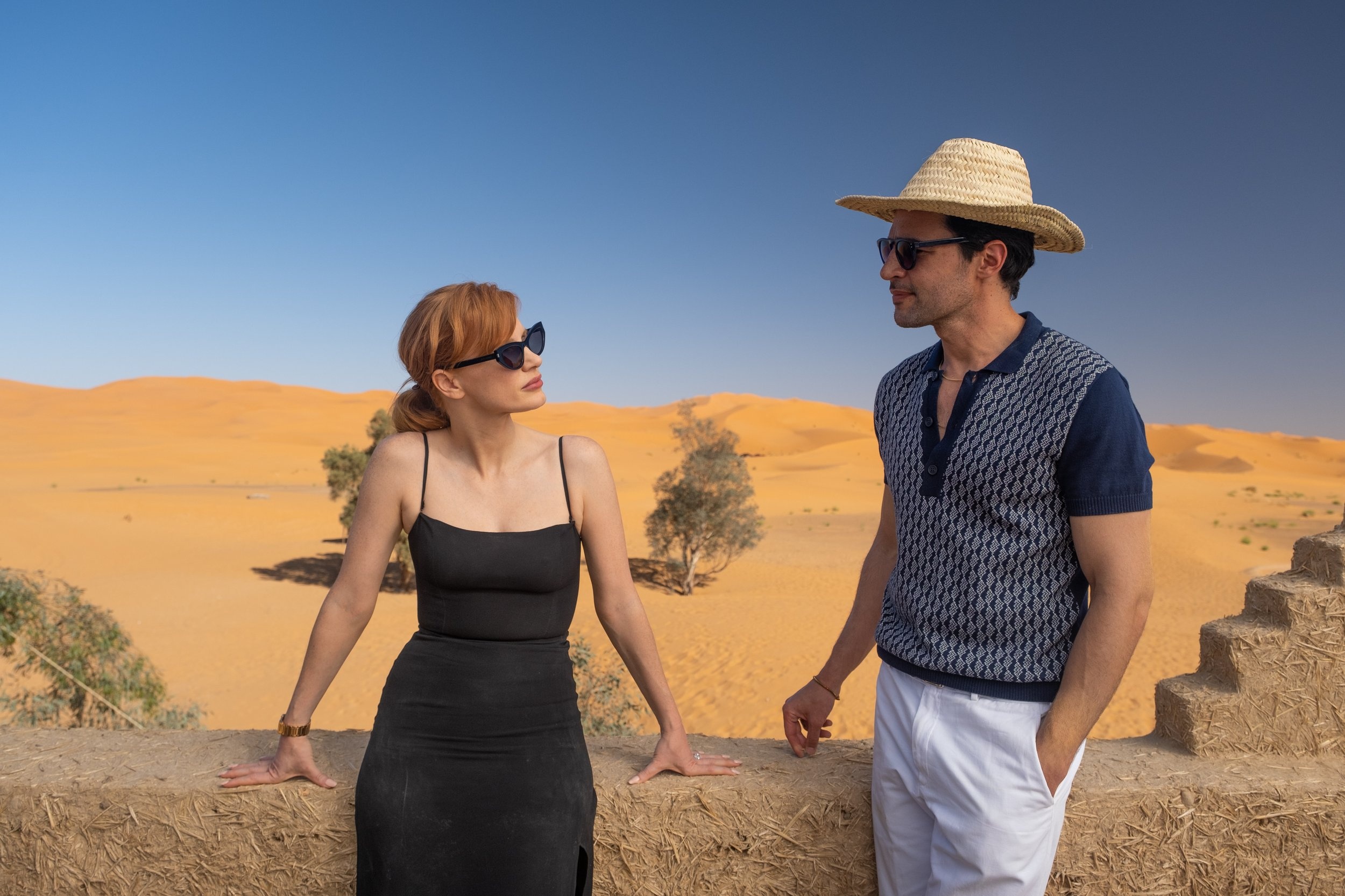 Trailer
The Forgiven
United Kingdom, 2021, 117 min.
director and screenwriter – John Michael McDonagh
based on the novel by Lawrence Osborne
producers – Elizabeth Eves, John Michael McDonagh, Trevor Matthews and Nick Gordon
camera – Larry Smith
editors – Elizabeth Eves and Chris Gill
music – Lorne Balfe
production designer – Willem Smit
A HOUSE OF UN-AMERICAN ACTIVITIES/BROOKSTREET PICTURES production
intl. sales – UNIVERSAL PICTURES
print – FORUM FILM
cast:
Ralph Fiennes (David Heninger), Jessica Chastain (Jo Henninger), Matt Smith (Richard Galloway), Said Taghmaoui (Anouar), Christopher Abbott (Tom Day), Caleb Landy Jones (Dally Margolis), Marie-Josee Croze (Isabelle)
On the verge of divorce, wealthy couple David and Jo are on their way to a lavish weekend party, and accidentally run over and kill a young Moroccan man trying to sell fossils by the roadside. They put his body in their car and arrive at the party at a mansion hosted by a worldly gay couple. Once the body is tucked away in the bowels of the villa, the partygoers return to the circus of dancing, drugs, and debauchery. The next morning, David is forced to reckon with the boy's father and meet his own fate. For the others, the party must go on…
John Michael McDonagh applies a Felliniesque lens towards the bourgeoisie, showing how their vapid pursuits ignore the livelihoods of others, sometimes with deadly results. McDonagh doesn't spare his irony towards fatalistic themes of hedonism, neocolonialism, and the negligence of privilege.
Screenings:


Friday, 18 November 2022, 18:00, Odeon
Saturday, 19 November 2022, 16:30, Cinema House - Buy a Ticket Online
Wednesday, 23 November 2022, 18:30, Euro Cinema
Saturday, 26 November 2022, 16:30, G8
Thursday, 1 December 2022, 19:00, Lumiere - Buy a Ticket Online

Ticket Centre at National Palace of Culture, Sofia, 1, Bulgaria Square, T: +359 2 916 63 69
Lumiere, 1, Bulgaria Square, T: +359 2 916 6300
Cinema House, 37, Ekzarch Yosiff Str., T: +359 2 980 7838
Odeon, 1, Patriarch Evtimii Blvd, +359 2 989 24 69
Vlaykova, 11, Tsar Ivan Assen II Str, T: +359 892 22 68 68
French Institute, 3, Slaveykov Square, T: +359 2 937 79 22
Cultural Center G8, 8, Gladstone Str., T: +359 2 995 00 80
Euro Cinema, 17, Aleksandar Stamboliiski Blvd., T: +359 2 980 41 61

TICKETS:
National Palace of Culture Hall 1 – 14 leva
Reduced price – 12 leva
Lumiere, Cinema House, Odeon, Vlaykova, French Institute, Cultural Center G8, Euro Cinema – 12 leva
Reduced price – 10 leva
Classic Pleasures: 8 leva
Reduced price – 6 leva