Ticket Centre at National Palace of Culture, Sofia, 1, "Bulgaria" Square
Phones: (+359 2) 916 63 00; (+359 2) 916 64 00
Working time:
Monday - Friday: 09:00 - 20:30 h
Saturday & Sunday: 10:00 to 20:00 ч.
Tickets online
The Time Is Ours
director and producer – Peter Popzlatev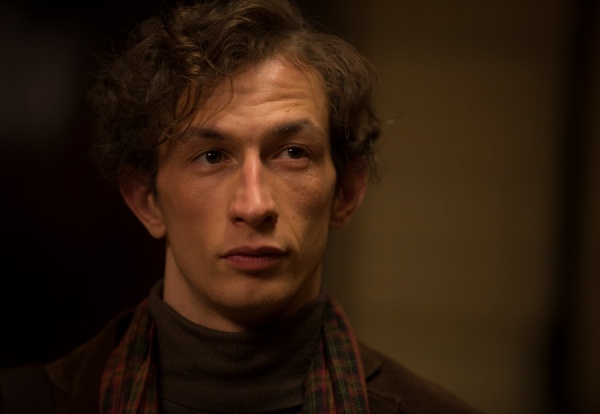 Trailer
Bulgaria, 2018, 124 min.
director and producer – Peter Popzlatev
script – Stanislav Semerdjiev
based on motives from the novel "Devastation" by Vladimir Zarev and from short stories "White Jam" and "Blond Cap" by Dimitar Shumnaliev
camera – Stefan Ivanov
music – Kalin Nikolov
editors – Peter Popzlatev and Madlen Radicheva
production designer – Tatyana Dimova
coastume designer – Elena Ivanova
A POST SCRIPTUM 2 production in co-production with AUDIOVIDEO "ORPHEUS", CHOUCHKOV BROTHERS, SOUND INTL., MOTIFF PICTURES, RED RING ENTERTAINMENT and ARS DIGITAL STUDIO with the support of the NATIONAL FILM CENTER
cast:
Rushen Vidinliev (Boyan Tilev), Elena Telbis (Nevena), Leonid Yovchev (Martin Sestrimski), Irini Jambonas (Marta/Margarita), Svetlana Yancheva (Angela Hariri), Ivaylo Hristov (The General), Krasimir Dokov (Krasimir "Ironman" Diomov), Valentin Ganev (Inspector Petkov), Boyana Petrova (The Bookseller) and with the special partiipation of Itzhak Finzi
Writer Martin Sestrimsky and Boyan Tillev, officer from the State Security Service, are long-standing acquaintances from the day Martin handed over a special folder to Boyan. Subsequently, this slander will bring about long-term consequences, which the writer tries to overcome. In the vortex of changes following the collapse of communism in Eastern Europe, the relationship between Sestrimsky and Tillev takes a new direction. It is provoked by Tillev's step-daughter – Nevena, a young woman of an obscure double identity. While Tillev is getting increasingly richer owing to his shady deals, Sestrimsky is attempting to make peace with his past with Nevena's assistance. To come clean, however, he has to acknowledge his own sins, helping Nevena at the same time to grasp the truth about her life and relations. Sestrimsky will accomplish this by becoming the hero of his own novel about his father's fate and suffering, for which he himself has a substantial contribution. At the end, Sestrimsky and Tillev will arrive at the truth about their past, which they have been concealing for such a long time.
Screenings:
Thursday, 15 November 2018, 19:00, NPC - Hall 1
Ticket Centre at National Palace of Culture, Sofia, 1, "Bulgaria" Square
Phones: (+359 2) 916 63 00; (+359 2) 916 64 00
Working time:
Monday - Friday: 09:00 - 20:30 h
Saturday & Sunday: 10:00 to 20:00 ч.
TICKETS:
National Palace of Culture, Hall 1 – 12 lv.; reduction for students and retired people – 10 lv.
Opening Gala – The Time Is Ours – 10/8 lv.
Cinema Lumiere, Cinema House, Cinema Odeon, G8 and Euro Cinema – 10/8 lv.
Children Films – 7/5 lv.
Bulgarian Premieres – Away from the Shore, Living Chimneys, My Sister's Silence – 8/5 lv.
Bergman's Retrospective and program "Classic Pleasures" – 7/5 lv.
NPC Tickets Online