TICKETS:
НДК Зала 1: 12 лв. Намаление за ученици, студенти и пенсионери – 10 лв.
Специални събития: Моята страст към киното – вечер на Стефан Вълдобрев. Цени на билетите: 20, 25, 30 лв.
Кино Люмиер, Дом на киното, Филмотечно кино "Одеон", Влайкова, Френски институт, Културен център G 8, Euro Cinema: 10 лв.Намаление за ученици, студенти и пенсионери – 8 лв.
Човешкият глас и Класически удоволствия: 7 лв. Намаление за ученици, студенти и пенсионери – 5 лв.
Билетен център НДК, София, площад "България" 1
Телефони: (+359 2) 916 63 68, 916 63 69
Билети онлайн в Електронен билетен център - НДК
VR мания. Билетът е за 45 минути гледане на произведения по избор на зрителя. Сеансите са на всеки 30 минути. Цена – 20 лв.
She Said
director – Maria Schrader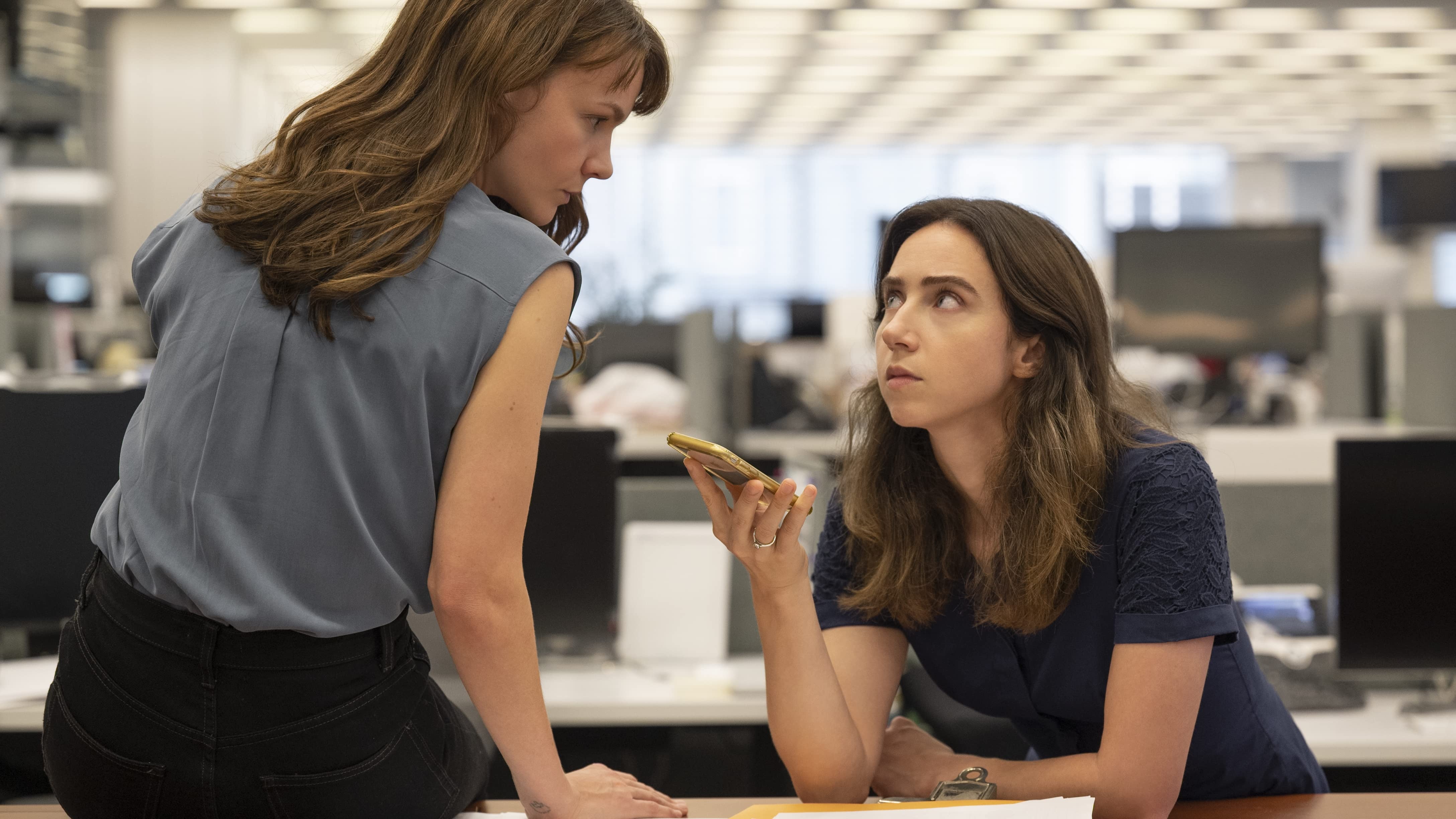 Trailer
She Said
USA, 2022, 135 min.
director – Maria Schrader
producers – Lexi Barta, Dede Gardner, Jeremy Kleiner and Brad Pitt
script – Rebecca Lenkiewicz
based on the book by Jodi Kantor and Megan Twohy
camera – Natasha Braier
editor - Hansjörg Weißbrich
music – Nicholas Britell
production designer – Meredith Lippincott
An UNIVERSAL PICTURES/ANNAPURNA PICTURES/PLAN B ENTERTAINMENT production
intl. sales – UNIVERSAL PICTURES
BG distributor – FORUM FILM
selections:
New York Film Festival, BFI London Film Festival
cast:
Carey Mulligan (Megan Twohy), Zoe Kazan (Jodi Kantor), Samantha Morton (Zelda Perkins), Andre Braugher (Dean Baquet), Patricia Clarkson (Rebecca Corbett)
When Jodi Kantor and Megan Twohey began to dig into whispered allegations of sexual abuse in Hollywood, doors were closed and shutters came down. Even so, many of their leads pointed to Weinstein. He was the key to unlocking a system of power that protected abusers. She Said is a pacey investigative thriller in the vein of Spotlight and All the President's Men. Maria Schrader directs with precision, bringing the pithy script and pitch-perfect performances to the fore. But the heart of the film is Mulligan and Kazan, who play the reporting double act as a brainy tag team and the very image of ethical journalism – sensitive to each other and their subjects. She Said is a crackingly good film about female solidarity and the fundamental importance of the fourth estate.
Ticket Centre at National Palace of Culture, Sofia, 1, Bulgaria Square, T: +359 2 916 63 69
Lumiere, 1, Bulgaria Square, T: +359 2 916 6300
Cinema House, 37, Ekzarch Yosiff Str., T: +359 2 980 7838
Odeon, 1, Patriarch Evtimii Blvd, +359 2 989 24 69
Vlaykova, 11, Tsar Ivan Assen II Str, T: +359 892 22 68 68
French Institute, 3, Slaveykov Square, T: +359 2 937 79 22
Cultural Center G8, 8, Gladstone Str., T: +359 2 995 00 80
Euro Cinema, 17, Aleksandar Stamboliiski Blvd., T: +359 2 980 41 61

TICKETS:
National Palace of Culture Hall 1 – 14 leva
Reduced price – 12 leva
Lumiere, Cinema House, Odeon, Vlaykova, French Institute, Cultural Center G8, Euro Cinema – 12 leva
Reduced price – 10 leva
Classic Pleasures: 8 leva
Reduced price – 6 leva