TICKETS:
НДК Зала 1: 12 лв. Намаление за ученици, студенти и пенсионери – 10 лв.
Специални събития: Моята страст към киното – вечер на Стефан Вълдобрев. Цени на билетите: 20, 25, 30 лв.
Кино Люмиер, Дом на киното, Филмотечно кино "Одеон", Влайкова, Френски институт, Културен център G 8, Euro Cinema: 10 лв.Намаление за ученици, студенти и пенсионери – 8 лв.
Човешкият глас и Класически удоволствия: 7 лв. Намаление за ученици, студенти и пенсионери – 5 лв.
Билетен център НДК, София, площад "България" 1
Телефони: (+359 2) 916 63 68, 916 63 69
Билети онлайн в Електронен билетен център - НДК
VR мания. Билетът е за 45 минути гледане на произведения по избор на зрителя. Сеансите са на всеки 30 минути. Цена – 20 лв.
Triangle of Sadness
director and screenwriter - Ruben Östlund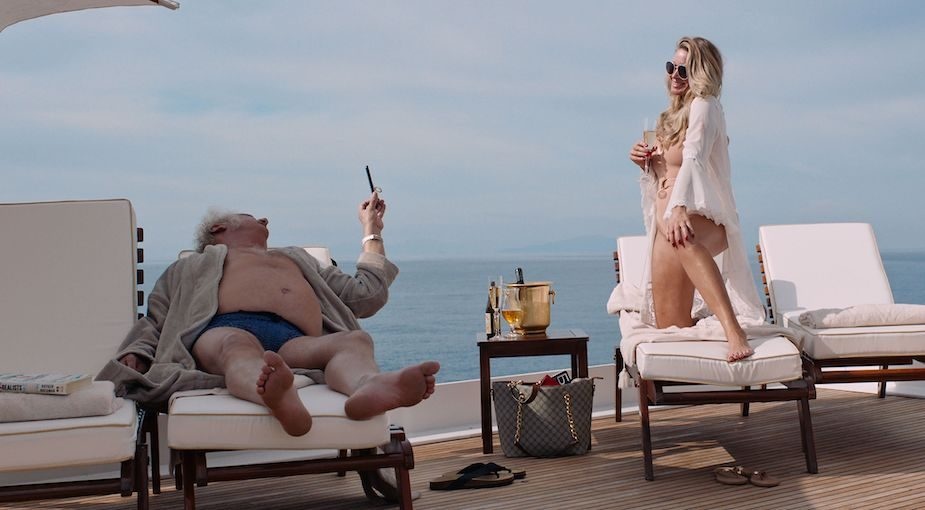 Trailer
Triangle of Sadness
Sweden-Germany-France, 2022, 143 min.
director and screenwriter - Ruben Östlund
producers – Erik Hemmendorff and Philippe Bober
camera – Fredrik Wenzel
editors – Mikel Karlsson and Ruben Östlund
production designer - Josefin Åsberg
A PLATTFORM PRODUKTION/ESSENTIAL FILMS/COPRODUCTION OFFICE co-production
intl. sales – COPRODUCTION OFFICE
BG distributor – A+ FILMS
awards:
Cannes – Golden Palm
cast:
Charlbi Dean (Yaya), Harris Dickinson (Carl), Woody Harrelson (The Captain), Dolly De Leon (Abigail), Zlatko Buric (Dimitry), Vicki Berlin (Paula), Iris Berben (Therese)
A satirist and provocateur, Swedish auteur Ruben Östlund — two-time winner of the Cannes' Palme d'Or — relishes the controversial aspects of his work. His latest, Triangle of Sadness, for which he won his second Palme, may be his most provocative work yet; it's certainly his fiercest and funniest.
The first of the film's three chapters follows models Carl and Yaya. Untroubled by self-awareness or decorum, they can barely get through dinner without going for each other's throats. In the second chapter, the couple embarks on a luxury cruise — a ship of self-destructive fools who believe themselves invincible due to their money and power. The captain leads as privileged and wasted a life as his passengers, yet espouses, ad nauseum, the virtues of Marxism. In one grotesquely and hilarious scene, he gets blind drunk and argues about Marx with the perma-drunk Russian businessman Dimitry, as the boat is beset by turbulent waters and the passengers collectively toss their very expensive cookies.
It expands the scope of the film, exposing how our addiction to comfort lays waste to common sense and the last vestiges of altruism. A troubling, gleefully misanthropic social satire, Triangle of Sadness will spark endless debate.
Screenings:


Saturday, 19 November 2022, 16:45, G8
Sunday, 20 November 2022, 19:00, NPC - Hall 1 - Buy a Ticket Online
Saturday, 26 November 2022, 20:30, Cinema House - Buy a Ticket Online
Sunday, 27 November 2022, 19:30, Odeon
Wednesday, 30 November 2022, 19:30, Vlaykova - Buy a Ticket Online

Ticket Centre at National Palace of Culture, Sofia, 1, Bulgaria Square, T: +359 2 916 63 69
Lumiere, 1, Bulgaria Square, T: +359 2 916 6300
Cinema House, 37, Ekzarch Yosiff Str., T: +359 2 980 7838
Odeon, 1, Patriarch Evtimii Blvd, +359 2 989 24 69
Vlaykova, 11, Tsar Ivan Assen II Str, T: +359 892 22 68 68
French Institute, 3, Slaveykov Square, T: +359 2 937 79 22
Cultural Center G8, 8, Gladstone Str., T: +359 2 995 00 80
Euro Cinema, 17, Aleksandar Stamboliiski Blvd., T: +359 2 980 41 61

TICKETS:
National Palace of Culture Hall 1 – 14 leva
Reduced price – 12 leva
Lumiere, Cinema House, Odeon, Vlaykova, French Institute, Cultural Center G8, Euro Cinema – 12 leva
Reduced price – 10 leva
Classic Pleasures: 8 leva
Reduced price – 6 leva