TICKETS:
НДК Зала 1: 12 лв. Намаление за ученици, студенти и пенсионери – 10 лв.
Специални събития: Моята страст към киното – вечер на Стефан Вълдобрев. Цени на билетите: 20, 25, 30 лв.
Кино Люмиер, Дом на киното, Филмотечно кино "Одеон", Влайкова, Френски институт, Културен център G 8, Euro Cinema: 10 лв.Намаление за ученици, студенти и пенсионери – 8 лв.
Човешкият глас и Класически удоволствия: 7 лв. Намаление за ученици, студенти и пенсионери – 5 лв.
Билетен център НДК, София, площад "България" 1
Телефони: (+359 2) 916 63 68, 916 63 69
Билети онлайн в Електронен билетен център - НДК
VR мания. Билетът е за 45 минути гледане на произведения по избор на зрителя. Сеансите са на всеки 30 минути. Цена – 20 лв.
Boy from Heaven
director and screenwriter – Tarik Saleh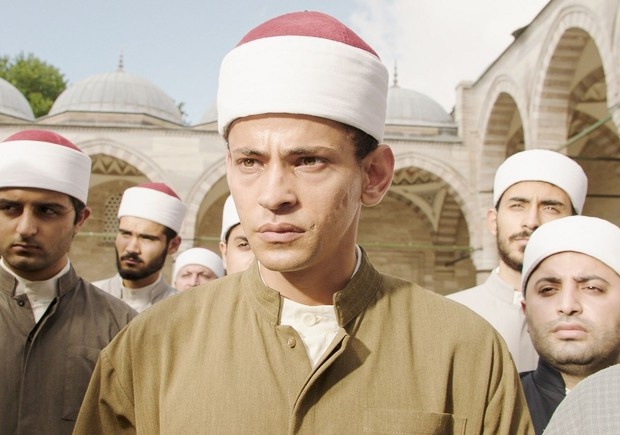 Trailer
Boy from Heaven
Sweden-France-Finland-Denmark, 2022, 126 min.
director and screenwriter – Tarik Saleh
producers – Fredrik Zander and Kristina Åberg
camera – Pierre Aim
editor – Theis Schmidt
music – Krister Linder
production designer – Roger Rosenberg
An ATMO RIGHTS/MEMENTO PROD./BUFO/FINAL CUT FOR REAL co-production
intl. sales – MEMENTO
BG distributor – BETA FILM
awards:
Cannes – Award for best screenplay
cast:
Tawfeek Barhom (Adam), Fares Fares (Col. Ibrahim), Mohammad Bakri, Makram Khoury
Boy from Heaven is a subtle character piece that hits all the beats of an intense conspiracy thriller. It starts when Adam, the son of a poor fisherman, receives a scholarship to a prestigious university in Cairo, the power base of Sunni Islam. His family sees it as a gift from God, but Adam's fortune sours when the school's Grand Imam dies. Fearing a hardline replacement, the government tasks secret serviceman Colonel Ibrahim with recruiting a spy, which is how Adam finds himself caught between a rock and hard place in a film that shows how the politicisation of religion is the great poison of our times.
Screenings:


Sunday, 20 November 2022, 20:00, Cinema House - Buy a Ticket Online
Tuesday, 22 November 2022, 20:00, Odeon
Wednesday, 23 November 2022, 19:45, Lumiere - Buy a Ticket Online
Sunday, 27 November 2022, 19:30, Vlaykova - Buy a Ticket Online
Monday, 28 November 2022, 18:45, G8
Tuesday, 29 November 2022, 18:30, Euro Cinema

Ticket Centre at National Palace of Culture, Sofia, 1, Bulgaria Square, T: +359 2 916 63 69
Lumiere, 1, Bulgaria Square, T: +359 2 916 6300
Cinema House, 37, Ekzarch Yosiff Str., T: +359 2 980 7838
Odeon, 1, Patriarch Evtimii Blvd, +359 2 989 24 69
Vlaykova, 11, Tsar Ivan Assen II Str, T: +359 892 22 68 68
French Institute, 3, Slaveykov Square, T: +359 2 937 79 22
Cultural Center G8, 8, Gladstone Str., T: +359 2 995 00 80
Euro Cinema, 17, Aleksandar Stamboliiski Blvd., T: +359 2 980 41 61

TICKETS:
National Palace of Culture Hall 1 – 14 leva
Reduced price – 12 leva
Lumiere, Cinema House, Odeon, Vlaykova, French Institute, Cultural Center G8, Euro Cinema – 12 leva
Reduced price – 10 leva
Classic Pleasures: 8 leva
Reduced price – 6 leva