***
НДК Зала 1: 12 лв. Намаление за ученици, студенти и пенсионери – 10 лв.
Специални събития: Моята страст към киното – вечер на Стефан Вълдобрев. Цени на билетите: 20, 25, 30 лв.
Кино Люмиер, Дом на киното, Филмотечно кино "Одеон", Влайкова, Френски институт, Културен център G 8, Euro Cinema: 10 лв.Намаление за ученици, студенти и пенсионери – 8 лв.
Human Voice and Classic Pleasures: BGN 7. Discount for pupils, students and pensioners - BGN 5.
Ticket Centre at National Palace of Culture, Sofia, 1, "Bulgaria" Square
Phone: (+359 2) 916 63 69
Tickets online
VR mania in Hall 4, National Palace of Culture. The ticket is for 45 minutes of viewing works of the viewer's choice. Sessions are every 30 minutes. Price - BGN 20.
Marriage Italian Style / Matrimonio all'italiana
director – Vittorio De Sica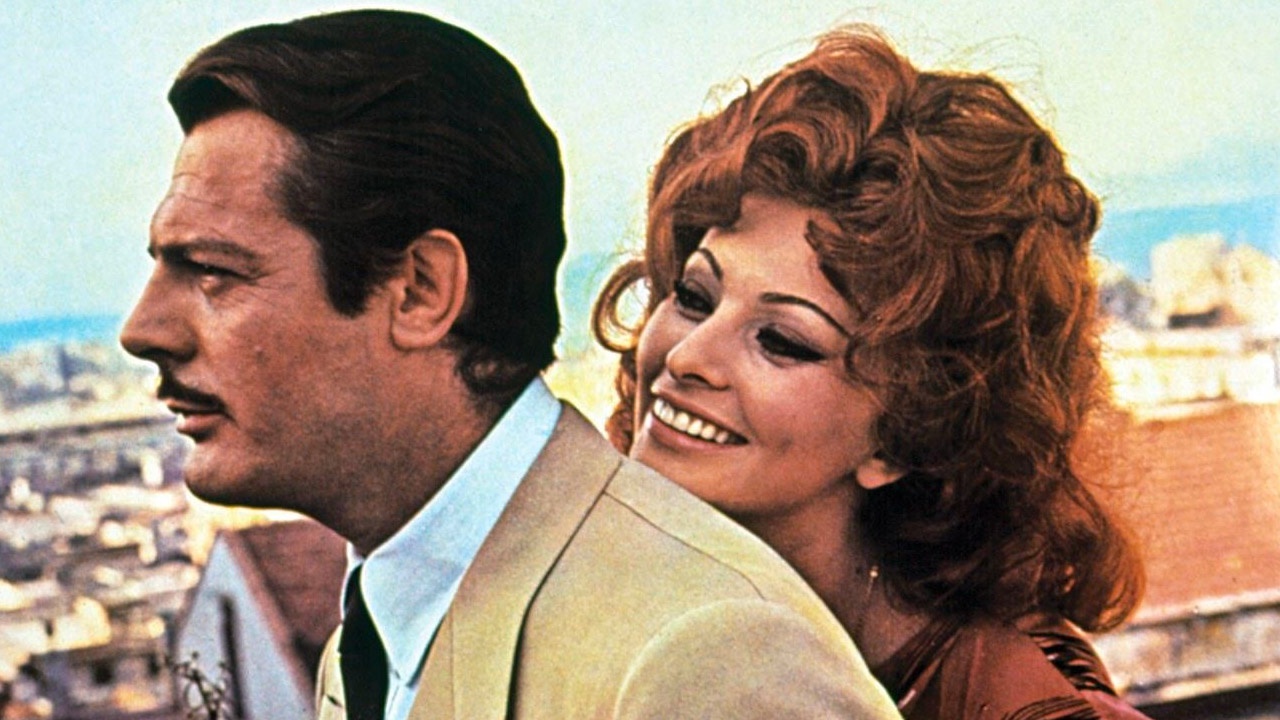 Trailer
Marriage Italian Style / Matrimonio all'italiana
Italy-France, 1964, 104 min
director – Vittorio De Sica
producer – Carlo Ponti
script – Renato Castellani, Tonino Guerra, Leo Benvenuti and Piero De Bernardi
based on the play "Filumena Marturano" by Eduardo De Filippo
camera – Roberto Gerardi
editor – Adriana Novelli
music – Armando Trovajoli
production designer – Carlo Egidi
costume designer – Piero Tosi
A COMPAGNIA CINEMATOGRAFICA CHAMPION/LES FILMS CONCORDIA co-production
intl. sales – SURF FILM
BG distributor – BETA FILM
awards and nominations:
Moscow – Award for best actress to Sophia Loren
4 awards "David di Donatello" – for best direction, actress to Sophia Loren, actor to Marcello Mastroianni and production
"Golden Globe" for foreign film
2 nominations for "Oscar" – for foreign language film and actress to Sophia Loren
2 nominations for "Golden Globe" – for actress in comedy to Sophia Loren and actor in comedy to Marcello Mastroianni
cast:
Sophia Loren (Filumena Marturano), Marcello Mastroianni (Domenico Soriano), Aldo Puglisi (Alfredo), Marilu Tolo (Diana), Tecla Scarano (Rosalia)
The confectioner Domenico give shelter to the prostitute Filumena, which he used both as a servant and mistress. Pretending that she is dying, Filumena succeeds to convince him to marry her. Domenico tries to cancel the marriage, but she stating that have three children, one of which is his own.
De Sica strengthen the almost Pirandelian tones of the original text with his own innate irony and makes one of his most successful movies. In their fifth film together (of totally 11), the greatest Loren and Mastroianni make one of their most memorable roles. And Sophia Loren is simply born to play a character of the classic Italian playwright Eduardo De Filippo.
Screenings:


Saturday, 20 November 2021, 15:00, Odeon
Sunday, 21 November 2021, 13:00, Lumiere - BUY A TICKET
Friday, 26 November 2021, 18:45, Euro Cinema
Saturday, 27 November 2021, 16:00, Vlaykova
Sunday, 28 November 2021, 14:15, G8
Thursday, 2 December 2021, 18:00, Cinema House - BUY A TICKET

National Palace of Culture, Hall 1 – 12 leva
Reduced price for retired people
and students –
10 leva
THE BELL – monoperformance of Deyan Donkov –
30, 40, 50 leva
Reduced price – 20 leva

***
French Institute, Cultural Center G8, Euro Cinema – 10 leva
VR screenings – 15 leva
Reduced price – 8 leva
The Human Voice and movies from "Classic Pleasures" – 7 leva