***
НДК Зала 1: 12 лв. Намаление за ученици, студенти и пенсионери – 10 лв.
Специални събития: Моята страст към киното – вечер на Стефан Вълдобрев. Цени на билетите: 20, 25, 30 лв.
Кино Люмиер, Дом на киното, Филмотечно кино "Одеон", Влайкова, Френски институт, Културен център G 8, Euro Cinema: 10 лв.Намаление за ученици, студенти и пенсионери – 8 лв.
Human Voice and Classic Pleasures: BGN 7. Discount for pupils, students and pensioners - BGN 5.
Ticket Centre at National Palace of Culture, Sofia, 1, "Bulgaria" Square
Phone: (+359 2) 916 63 69
Tickets online
VR mania in Hall 4, National Palace of Culture. The ticket is for 45 minutes of viewing works of the viewer's choice. Sessions are every 30 minutes. Price - BGN 20.
The Human Voice
director and screenwriter – Pedro Almodovar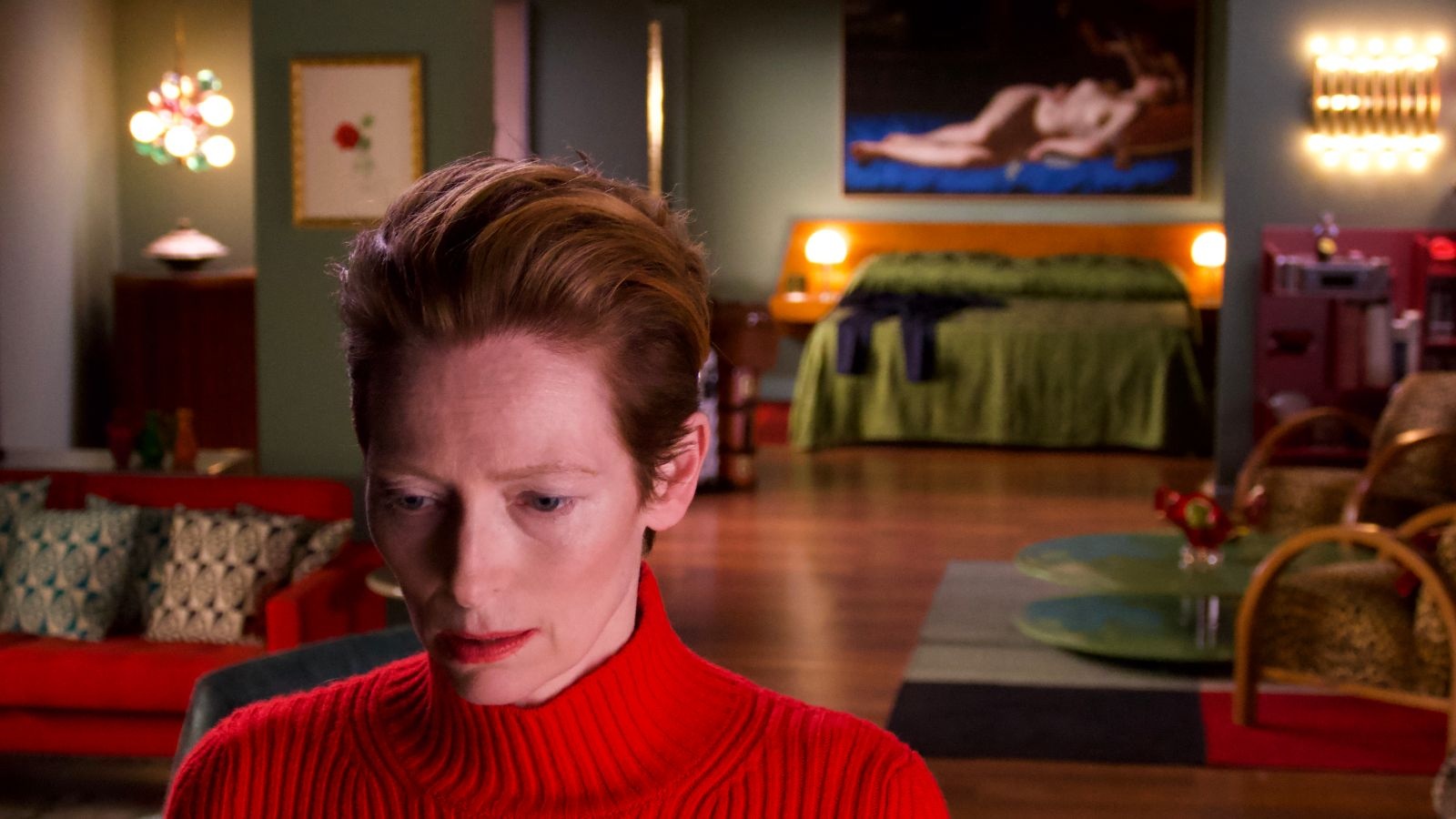 The Human Voice
Spain, 2020, 30 min
director and screenwriter – Pedro Almodovar
based on the play "La Voix humaine" by Jean Cocteau
producers – Agustin Almodovar and Esther Garcia
camera – Jose Luis Alcaine
editor – Teresa Moneo
music – Alberto Iglesias
production designer – Antxon Gomez
costume designer – Sonia Grande
An EL DESEO production
intl. sales – FILMNATION
BG distributor – PRO FILMS
with:
Tilda Swinton
A woman watches time passing next to the suitcases of her ex-lover (who is supposed to come pick them up, but never arrives) and a restless dog who doesn't understand that his master has abandoned him. Two living beings facing abandonment.
During the three days of waiting, the woman only goes out to the street once, to buy an axe and a can of gasoline. The woman goes through all sorts of moods, from helplessness to despair and loss of control. She makes herself up, she dresses up as if going to a party, she considers throwing herself off of the balcony, until her ex-lover calls on the phone, but she's unconscious because she's taken a combination of thirteen pills and cannot answer the call. The dog licks her face until she wakes up. After a cold shower, revived by a coffee as black as her state of mind, the telephone rings again and this time she can answer. The human voice is hers, we never hear the voice of her lover. At first she pretends to act normal and calm, but she is always on the verge of exploding in the face of the man's hypocrisy and meanness.
The Human Voice is a moral lesson about desire, even though its protagonist is on the verge of the very same abyss. Risk is an essential part of the adventure of living and loving. Pain is very present in the monologue. As I said at first, it is about the disorientation and distress of two living beings who grieve their master.
Pedro Almodovar
Screenings:


Saturday, 27 November 2021, 18:45, Lumiere - BUY A TICKET
Monday, 29 November 2021, 18:15 , Odeon
Sunday, 5 December 2021, 17:00, Lumiere - BUY A TICKET

National Palace of Culture, Hall 1 – 12 leva
Reduced price for retired people
and students –
10 leva
THE BELL – monoperformance of Deyan Donkov –
30, 40, 50 leva
Reduced price – 20 leva

***
French Institute, Cultural Center G8, Euro Cinema – 10 leva
VR screenings – 15 leva
Reduced price – 8 leva
The Human Voice and movies from "Classic Pleasures" – 7 leva