***
НДК Зала 1: 12 лв. Намаление за ученици, студенти и пенсионери – 10 лв.
Специални събития: Моята страст към киното – вечер на Стефан Вълдобрев. Цени на билетите: 20, 25, 30 лв.
Кино Люмиер, Дом на киното, Филмотечно кино "Одеон", Влайкова, Френски институт, Културен център G 8, Euro Cinema: 10 лв.Намаление за ученици, студенти и пенсионери – 8 лв.
Human Voice and Classic Pleasures: BGN 7. Discount for pupils, students and pensioners - BGN 5.
Ticket Centre at National Palace of Culture, Sofia, 1, "Bulgaria" Square
Phone: (+359 2) 916 63 69
Tickets online
VR mania in Hall 4, National Palace of Culture. The ticket is for 45 minutes of viewing works of the viewer's choice. Sessions are every 30 minutes. Price - BGN 20.
Diabolique / Les Diaboliques
director and producer – Henri-Georges Clouzot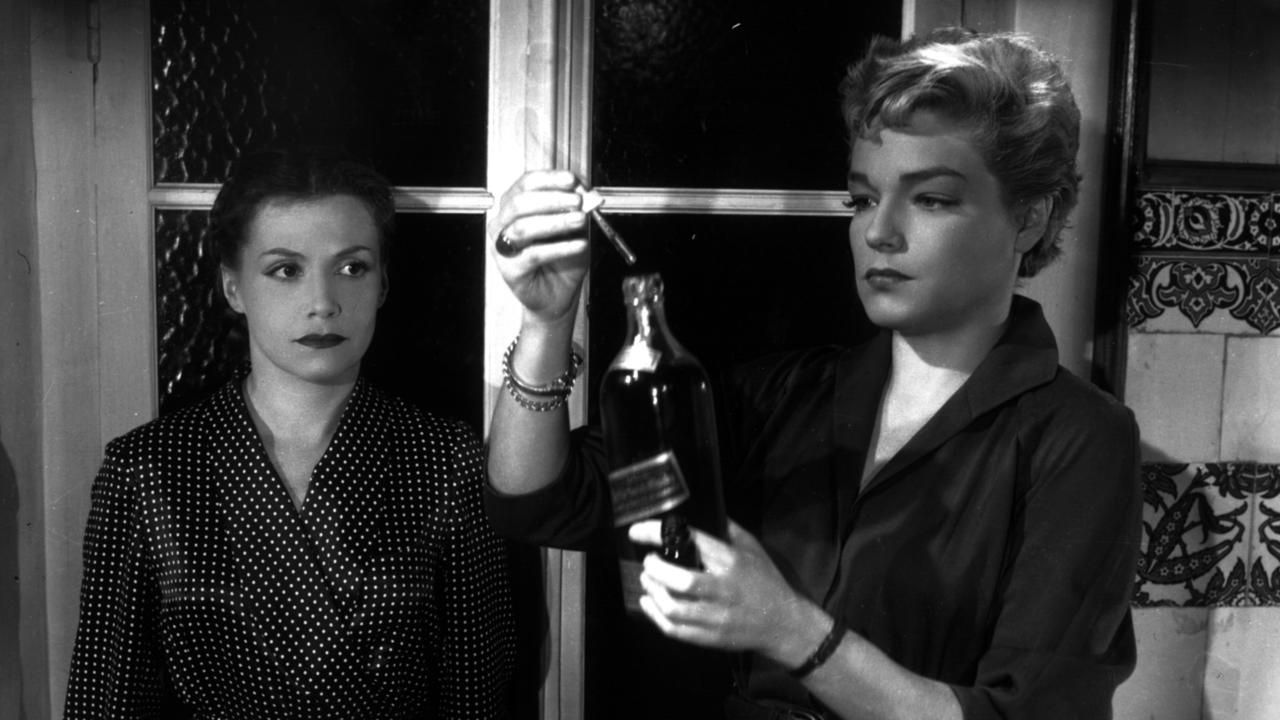 Trailer
Diabolique / Les Diaboliques
France, 1955, 117 min, black & white
director and producer – Henri-Georges Clouzot
script – Jerome Geronimi and Henri-Georges Clouzot
based on the novel by Pierre Boileau and Thomas Narcejac
camera – Armand Thirard
editor – Madeleine Gug
music – Georges Van Parys
production designer – Leon Barsacq
A FILMSONOR production
intl. sales – TF1
awards:
Prix "Louis Delluc" for best French film
Award of the New York Film Critics Circle for best foreign film
Award "Edgar Allan Poe" for best crime script
cast:
Simone Signoret (Nicole Horner), Vera Clouzot (Christina Delassalle), Paul Meurisse (Michel Delassalle), Charles Vanel (Commissaire Fichet), Michel Serrault (Mr. Raymond)
The story takes place at boys' boarding school, headed by the tyrannical principal Michel Delassalle. His battered wife Christina accepts to participate in a plan for his murder, conceived by the Michel's ex-mistress – the teacher Nicole. The situation will be described as a suicide or accident. But afterwards the dead body disappears from the pool and the two plotters begin to wonder whether they are not going mad…
The sexy Simone Signoret is at the peak of her glory. The most disturbing elements in the movie are not shown, but are deduced through the sickly atmosphere between the teachers, some of which are with shady past. The intrigue of Diabolique is so masterfully constructed, that the film stays eternal classic of the French crime cinema.
Screenings:


Saturday, 20 November 2021, 12:30 , Lumiere - BUY A TICKET
Monday, 22 November 2021, 19:00, Institut Francais
Saturday, 27 November 2021, 15:00, Odeon
Sunday, 28 November 2021, 12:15, Cinema House - BUY A TICKET

National Palace of Culture, Hall 1 – 12 leva
Reduced price for retired people
and students –
10 leva
THE BELL – monoperformance of Deyan Donkov –
30, 40, 50 leva
Reduced price – 20 leva

***
French Institute, Cultural Center G8, Euro Cinema – 10 leva
VR screenings – 15 leva
Reduced price – 8 leva
The Human Voice and movies from "Classic Pleasures" – 7 leva