TICKETS:
НДК Зала 1: 12 лв. Намаление за ученици, студенти и пенсионери – 10 лв.
Специални събития: Моята страст към киното – вечер на Стефан Вълдобрев. Цени на билетите: 20, 25, 30 лв.
Кино Люмиер, Дом на киното, Филмотечно кино "Одеон", Влайкова, Френски институт, Културен център G 8, Euro Cinema: 10 лв.Намаление за ученици, студенти и пенсионери – 8 лв.
Човешкият глас и Класически удоволствия: 7 лв. Намаление за ученици, студенти и пенсионери – 5 лв.
Билетен център НДК, София, площад "България" 1
Телефони: (+359 2) 916 63 68, 916 63 69
Билети онлайн в Електронен билетен център - НДК
VR мания. Билетът е за 45 минути гледане на произведения по избор на зрителя. Сеансите са на всеки 30 минути. Цена – 20 лв.
Driving Madeleine / Une belle course
director – Christian Carion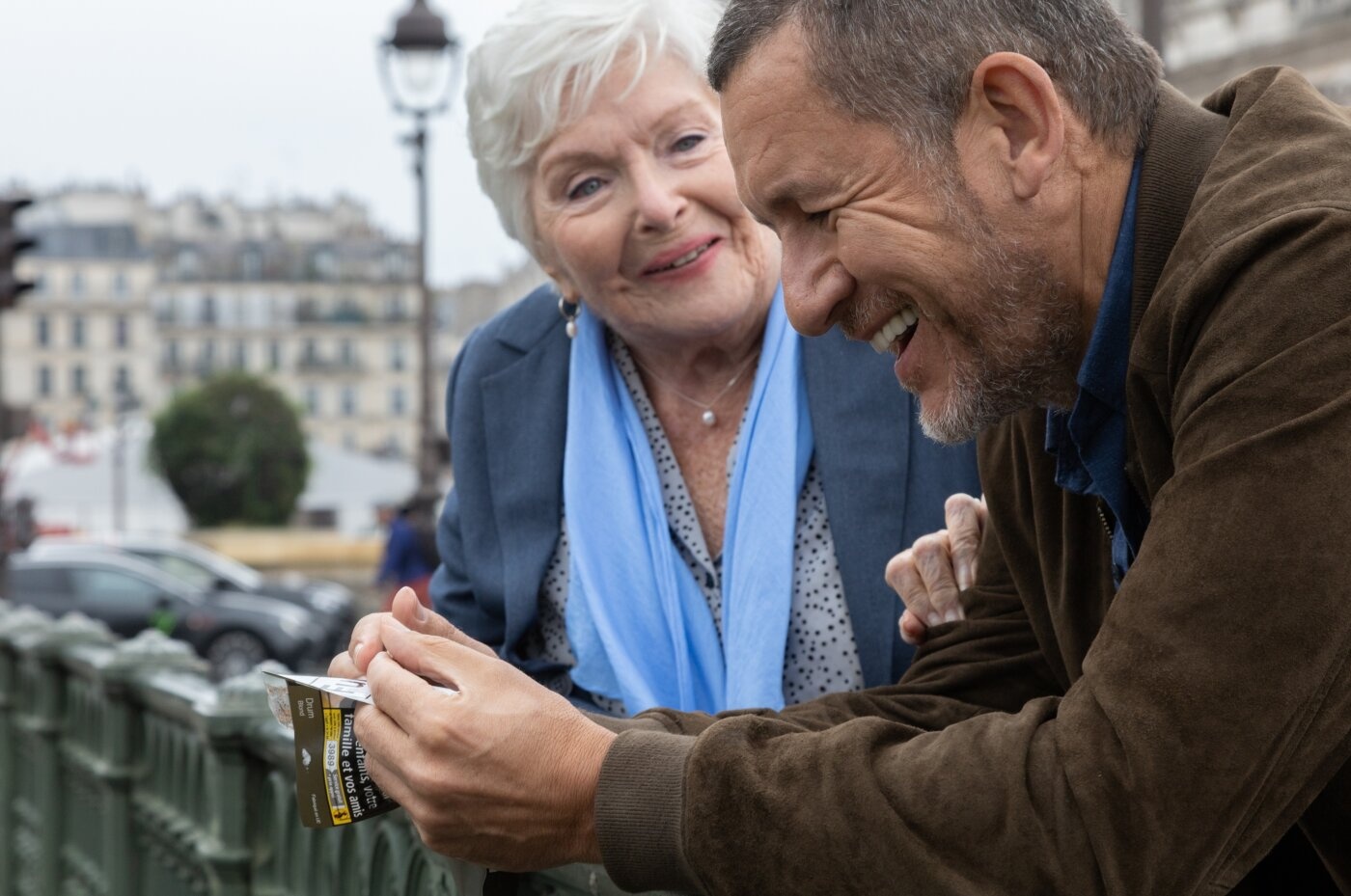 Trailer
Driving Madeleine / Une belle course
France, 2022, 91 min.
director – Christian Carion
producer – Laure Irrmann
script – Cyril Gely and Christian Carion
camera – Pierre Cottereau
editor – Loic Lallemand
music – Philippe Rombi
production designer – Chloe Cambournac
costume designer – Agnes Noden
An UNE HIRONDELLE PRODS./PATHE/ARTEMIS PRODS. production
intl. sales – PATHE
BG distributor – БЕТА ФИЛМ
cast:
Line Renaud (Madeleine), Dany Boon (Charles), Alice Isaaz (Young Madeleine), Jeremie Laheurte (Ray)
A seemingly simple taxi ride across Paris evolves into a profound meditation on the realities of the driver, whose personal life is in shambles, and his fare, an elderly woman whose warmth belies her shocking past.
Charles is a taxi driver in Paris, and he is having a very bad day. Some pressing personal debts are due, he's in danger of losing his driver's licence to numerous traffic infractions, and his marriage, like Charles himself, is strained to the point of snapping. A quick fare in the suburbs seems like an easy distraction.
Enter Madeleine, an immaculately groomed 92-year-old woman, who informs Charles that the trip today will not be a direct one. She is moving into a care home and would like to make some stops along the way, predicting that this might be her last car ride through the city. Initially exasperated and grumbling, Charles is slowly lured in by her warm charm and directness. Their ride takes them through the momentous locations of her life and we discover that she has had a shocking and very dramatic journey indeed.
Their short friendship is sure to have a lasting impact as Madeleine listens to Charles confess his own worries, all of which she absorbs with candour and clarifying humour. Boon, an actor best known for his comedic work, creates a dramatic portrait of a frustrated man facing a personal crisis of epic proportions. His darker, sharper edges allow Renaud (renowned for decades in France as a singer) to shine as the pure shimmering light that is Madeleine. She reminds us that inside every seemingly benign elderly woman we might pass on the street is a warrior, a nurturer, and a spirited adventurer.
Screenings:


Sunday, 20 November 2022, 16:15, Cinema House - Buy a Ticket Online
Monday, 21 November 2022, 20:30, Odeon
Tuesday, 22 November 2022, 19:00, Institut Francais
Wednesday, 23 November 2022, 18:00, Lumiere - Buy a Ticket Online
Thursday, 24 November 2022, 18:45, G8
Saturday, 26 November 2022, 17:30, Vlaykova - Buy a Ticket Online
Wednesday, 30 November 2022, 18:30, Euro Cinema

Ticket Centre at National Palace of Culture, Sofia, 1, Bulgaria Square, T: +359 2 916 63 69
Lumiere, 1, Bulgaria Square, T: +359 2 916 6300
Cinema House, 37, Ekzarch Yosiff Str., T: +359 2 980 7838
Odeon, 1, Patriarch Evtimii Blvd, +359 2 989 24 69
Vlaykova, 11, Tsar Ivan Assen II Str, T: +359 892 22 68 68
French Institute, 3, Slaveykov Square, T: +359 2 937 79 22
Cultural Center G8, 8, Gladstone Str., T: +359 2 995 00 80
Euro Cinema, 17, Aleksandar Stamboliiski Blvd., T: +359 2 980 41 61

TICKETS:
National Palace of Culture Hall 1 – 14 leva
Reduced price – 12 leva
Lumiere, Cinema House, Odeon, Vlaykova, French Institute, Cultural Center G8, Euro Cinema – 12 leva
Reduced price – 10 leva
Classic Pleasures: 8 leva
Reduced price – 6 leva