TICKETS:
НДК Зала 1: 12 лв. Намаление за ученици, студенти и пенсионери – 10 лв.
Специални събития: Моята страст към киното – вечер на Стефан Вълдобрев. Цени на билетите: 20, 25, 30 лв.
Кино Люмиер, Дом на киното, Филмотечно кино "Одеон", Влайкова, Френски институт, Културен център G 8, Euro Cinema: 10 лв.Намаление за ученици, студенти и пенсионери – 8 лв.
Човешкият глас и Класически удоволствия: 7 лв. Намаление за ученици, студенти и пенсионери – 5 лв.
Билетен център НДК, София, площад "България" 1
Телефони: (+359 2) 916 63 68, 916 63 69
Билети онлайн в Електронен билетен център - НДК
VR мания. Билетът е за 45 минути гледане на произведения по избор на зрителя. Сеансите са на всеки 30 минути. Цена – 20 лв.
Good Luck to You, Leo Grande
director – Sophie Hyde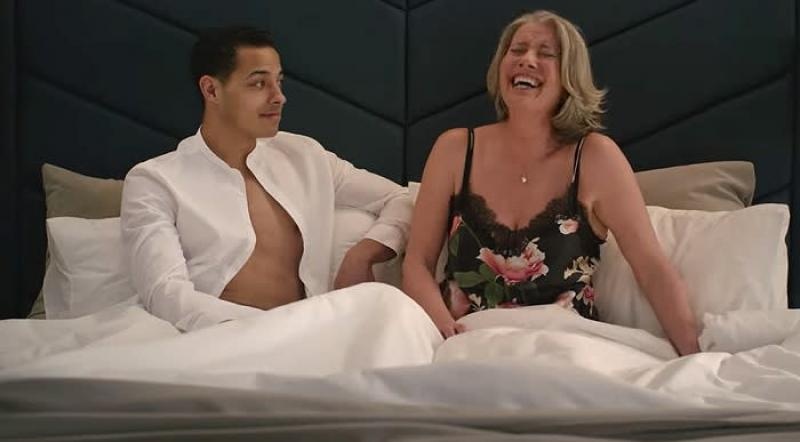 Trailer
Good Luck to You, Leo Grande
United Kingdom, 2022, 97 min.
director – Sophie Hyde
producers – Debbie Gray and Adrian Politowski
script – Katy Brand
camera and editing – Bryan Mason
music – Stephen Rennicks
production designer - Miren Marañón
A GENESIUS PICTURES production
intl. sales – CORNERSTONE FILMS
print – FORUM FILM
cast:
Emma Thompson (Nancy Stokes), Daryl McCormack (Leo Grande)
Nancy Stokes, a retired British school teacher, is yearning for some adventure, and some sex. Hiring an escort named Leo Grande to rid her of her sexual repression, Nancy gets out of her comfort zone and into bed with the younger man. This sex-positive dramedy stars Emma Thompson as a neurotic woman embarking on a post-marital sexual awakening with the help of charismatic sex worker Leo Grande. It's delicious to observe these two polar opposites forging a genuine connection in such unlikely circumstances as they build a surprising, sizzling rapport over a series of hotel room dates. Brilliantly scripted by comedy writer Katy Brand, the film tackles the taboo topic of female desire with a disarming honesty.
Screenings:


Friday, 18 November 2022, 20:15, Odeon
Saturday, 19 November 2022, 17:30, Lumiere - Buy a Ticket Online
Wednesday, 23 November 2022, 19:00, Cinema House - Buy a Ticket Online
Thursday, 24 November 2022, 18:30, Euro Cinema
Saturday, 26 November 2022, 14:15, G8

Ticket Centre at National Palace of Culture, Sofia, 1, Bulgaria Square, T: +359 2 916 63 69
Lumiere, 1, Bulgaria Square, T: +359 2 916 6300
Cinema House, 37, Ekzarch Yosiff Str., T: +359 2 980 7838
Odeon, 1, Patriarch Evtimii Blvd, +359 2 989 24 69
Vlaykova, 11, Tsar Ivan Assen II Str, T: +359 892 22 68 68
French Institute, 3, Slaveykov Square, T: +359 2 937 79 22
Cultural Center G8, 8, Gladstone Str., T: +359 2 995 00 80
Euro Cinema, 17, Aleksandar Stamboliiski Blvd., T: +359 2 980 41 61

TICKETS:
National Palace of Culture Hall 1 – 14 leva
Reduced price – 12 leva
Lumiere, Cinema House, Odeon, Vlaykova, French Institute, Cultural Center G8, Euro Cinema – 12 leva
Reduced price – 10 leva
Classic Pleasures: 8 leva
Reduced price – 6 leva