***
НДК Зала 1: 12 лв. Намаление за ученици, студенти и пенсионери – 10 лв.
Специални събития: Моята страст към киното – вечер на Стефан Вълдобрев. Цени на билетите: 20, 25, 30 лв.
Кино Люмиер, Дом на киното, Филмотечно кино "Одеон", Влайкова, Френски институт, Културен център G 8, Euro Cinema: 10 лв.Намаление за ученици, студенти и пенсионери – 8 лв.
Human Voice and Classic Pleasures: BGN 7. Discount for pupils, students and pensioners - BGN 5.
Ticket Centre at National Palace of Culture, Sofia, 1, "Bulgaria" Square
Phone: (+359 2) 916 63 69
Tickets online
VR mania in Hall 4, National Palace of Culture. The ticket is for 45 minutes of viewing works of the viewer's choice. Sessions are every 30 minutes. Price - BGN 20.
Help Me, My Love / Amore mio aiuta mi
director – Alberto Sordi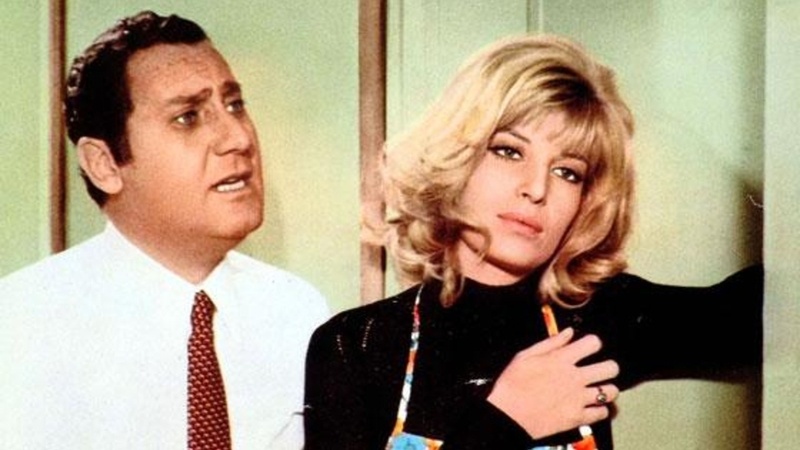 Trailer
Help Me, My Love / Amore mio aiuta mi
Italy, 1969, 122 min
director – Alberto Sordi
producer – Gianni Hecht Lucari
script – Tulio Pinelli and Alberto Sordi
camera – Carlo Di Palma
editor – Franco Fraticelli
music – Piero Piccioni
production designer – Flavio Mogherini
A DOCUMENTO FILM production
cast:
Alberto Sordi (Giovanni Macchiavelli), Monica Vitti (Raffaella Macchiavelli), Silvano Tranquilli (Valerio Mantovani), Ugo Gregoretti (Michele Parodi)
This romantic situation comedy finds Giovanni extremely jealous when his wife Raffaella admits her infatuation over their handsome neighbor Valerio. Giovanni spies on his wife and recruits their 10-year-old son in an effort to stop his wife's good-neighbor policy. Giovanni's once liberal and progressive outlook changes drastically with his wife's candid revelation. The two eventually consider a temporary separation after a series of incidents which seem to prove their incompatibility.
After the roles with Antonioni, which made her a star, and after her separation with him, from the mid-60's Monica Vitti with pleasure plays in Italian comedies and made really remarkable roles, totally different from the acting style of the other major stars of that time. Around the same time, after a series of cult comedies, which made him extremely popular, Alberto Sordi decides to prove himself also as director, making movies exactly for the measure of his atypical talent. Between 1964 and 1982 Sordi and Vitti made 4 very successful movies together.
Screenings:


Saturday, 20 November 2021, 14:15, Euro Cinema
Sunday, 21 November 2021, 14:15, G8
Thursday, 25 November 2021, 18:00, Cinema House - BUY A TICKET
Saturday, 27 November 2021, 14:45, Lumiere - BUY A TICKET
Sunday, 28 November 2021, 14:45, Odeon

National Palace of Culture, Hall 1 – 12 leva
Reduced price for retired people
and students –
10 leva
THE BELL – monoperformance of Deyan Donkov –
30, 40, 50 leva
Reduced price – 20 leva

***
French Institute, Cultural Center G8, Euro Cinema – 10 leva
VR screenings – 15 leva
Reduced price – 8 leva
The Human Voice and movies from "Classic Pleasures" – 7 leva