Ticket Centre at National Palace of Culture, Sofia, 1, "Bulgaria" Square
Phones: (+359 2) 916 63 00; (+359 2) 916 64 00
Tickets online
The Truth / La Verite
director, screenwriter and editor – Hirokazu Koreeda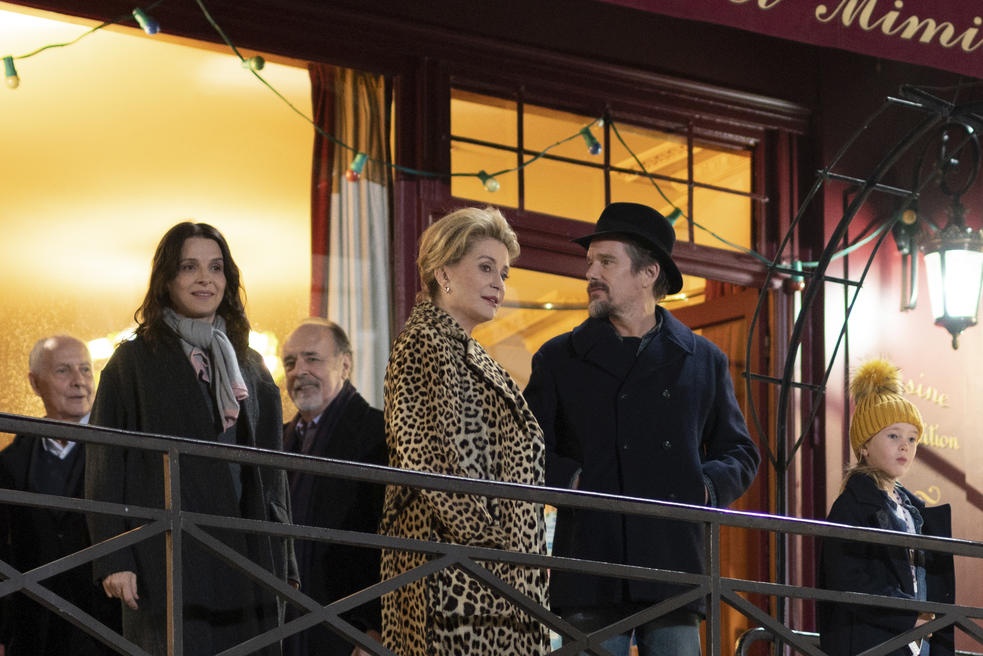 Trailer
France-Japan, 2019, 106 min
director, screenwriter and editor – Hirokazu Koreeda
producer – Muriel Merlin
camera – Eric Gautier
music – Alexei Aigui
art director – Riton Dupire-Clement
A WILD BUNCH/3B PRODS./BUN-BUKU/M.I. MOVIES/FRANCE 3 CINEMA
co-production
intl. sales – WILD BUNCH
BG distributior – BETA FILM
nominations:
Venice – Competition; Opening Gala
cast:
Catherine Deneuve (Fabienne), Juliette Binoche (Lumir), Ethan Hawke (Hank), Clementine Grenier (Charlotte), Manon Clavel (Manon), Ludivine Sagnier (Anna)
Hirokazu Koreeda's follow-up to his Palme d'Or-winning Shoplifterstransports the Japanese auteur's ongoing engagement with the machinations of family to Paris, where a tempestuous mother-daughter reunion becomes an opportunity to explore questions of love, art, and responsibility. Koreeda's first film made outside his native Japan also provides an opportunity to bring together two acclaimed French actors, Catherine Deneuve and Juliette Binoche, who, along with Ethan Hawke, lead an exquisite ensemble through a story that feels at once absolutely French and absolutely Koreeda.
Septuagenarian screen legend Fabienne is charismatic and fiercely talented. She has always prioritized her work above all else. The publication of Fabienne's memoir precipitates a visit from her long-estranged daughter Lumir, a screenwriter, along with Lumir's actor husband, Hank, and their daughter. When Fabienne's assistant suddenly resigns, Lumir agrees to take over his position just as Fabienne begins work on a science-fiction film. As the women struggle through confrontations on and off set, the contents of Fabienne's memoir, along with peculiar parallels between the new film and Fabienne's life, trigger the
re-emergence of long-buried resentments.
The Truth brims with well-wrought scenes of tiny, sometimes amusing cruelties. But things move gradually towards a place of new understanding between Fabienne, whose tendency is to save her feelings for the camera, and Lumir, who tries to control her world by writing it into being. The fortitude of their bond is undeniable, even if the truth about their shared past remains elusive.



Screenings:
Saturday, 16 November 2019, 19:00, Institut Francais
Sunday, 17 November 2019, 20:30, Odeon
Monday, 18 November 2019, 18:45, G-8 Cinema -
Buy a ticket online
Saturday, 23 November 2019, 18:00, Euro Cinema -
Buy a ticket online
Monday, 25 November 2019, 20:30, Lumiere Lidl -
Buy a ticket online
Wednesday, 27 November 2019, 18:45, G-8 Cinema -
Buy a ticket online
Thursday, 28 November 2019, 20:30, Cinema House -
Buy a ticket online
Saturday, 30 November 2019, 19:00, Institut Francais
Ticket Centre at National Palace of Culture, Sofia, 1, "Bulgaria" Square
Phones: (+359 2) 916 63 00; (+359 2) 916 64 00
Working time:
Monday - Friday: 09:00 - 20:30 h
Saturday & Sunday: 10:00 to 20:00 ч.