***
НДК Зала 1: 12 лв. Намаление за ученици, студенти и пенсионери – 10 лв.
Специални събития: Моята страст към киното – вечер на Стефан Вълдобрев. Цени на билетите: 20, 25, 30 лв.
Кино Люмиер, Дом на киното, Филмотечно кино "Одеон", Влайкова, Френски институт, Културен център G 8, Euro Cinema: 10 лв.Намаление за ученици, студенти и пенсионери – 8 лв.
Human Voice and Classic Pleasures: BGN 7. Discount for pupils, students and pensioners - BGN 5.
Ticket Centre at National Palace of Culture, Sofia, 1, "Bulgaria" Square
Phone: (+359 2) 916 63 69
Tickets online
VR mania in Hall 4, National Palace of Culture. The ticket is for 45 minutes of viewing works of the viewer's choice. Sessions are every 30 minutes. Price - BGN 20.
The King of All the World / El rey de todo el mundo
director and screenwriter – Carlos Saura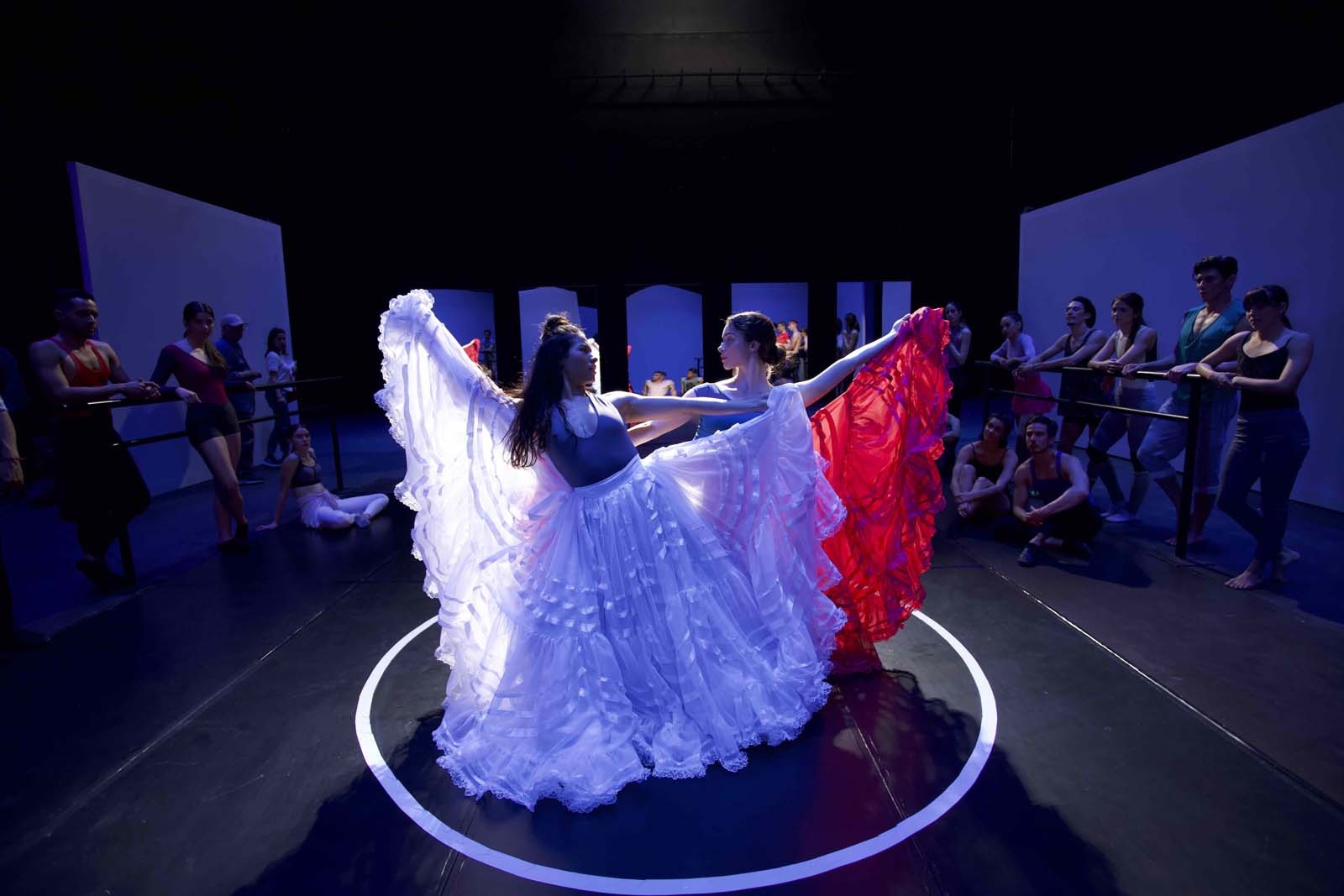 Trailer
The King of All the World / El rey de todo el mundo
Mexico-Spain, 2021, 95 min
director and screenwriter – Carlos Saura
producers – Eusebio Pacha, Alexandra Fierro and Bella Serrano
camera – Vittorio Storaro
editors – Vanessa Marimbert and Elliot Peregrino
music – Alfonso Aguilar and Carlos Guerra
production designer – Alex Arbesu
A PIPA FILMS/PACHA INVERSIONES co-production
intl. sales – LATIDO
BG distributor – BETA FILM
cast:
Manuel Garcia-Rulfo (Manuel), Ana de la Reguera (Sara), Greta Elizondo (Ines), Issac Hernandez (Diego), Damian Alcazar (Don Anselmo), Manolo Cardona (Andres), Eulalia Ramon (The Mother)
Manuel, a famous stage director, is preparing his next show, a musical about making a musical show. He seeks the help of Sara, a renowned choreographer and ex-wife, to help him cast and direct. During the casting process, the young dancer Ines will appear as the new rising star. She will bring into the story her father, a dubious character who has dangerous dealings with the local mob. As the preparation of the show evolves, the desire to win will push the dancers to excel their performances, which will bring out passion and tension between them. Where powerful Mexican music sets the tone (Lila Downs, Carlos Rivera, Fela Dominguez), a play will emerge in which tragedy, fiction and reality intertwine.
Screenings:


Wednesday, 24 November 2021, 18:30, Euro Cinema
Thursday, 25 November 2021, 19:00, G8
Friday, 26 November 2021, 18:00, Odeon
Sunday, 28 November 2021, 17:00, Lumiere - BUY A TICKET
Monday, 29 November 2021, 20:00, Vlaykova
Tuesday, 30 November 2021, 18:45, Cinema House - BUY A TICKET

National Palace of Culture, Hall 1 – 12 leva
Reduced price for retired people
and students –
10 leva
THE BELL – monoperformance of Deyan Donkov –
30, 40, 50 leva
Reduced price – 20 leva

***
French Institute, Cultural Center G8, Euro Cinema – 10 leva
VR screenings – 15 leva
Reduced price – 8 leva
The Human Voice and movies from "Classic Pleasures" – 7 leva