TICKETS:
НДК Зала 1: 12 лв. Намаление за ученици, студенти и пенсионери – 10 лв.
Специални събития: Моята страст към киното – вечер на Стефан Вълдобрев. Цени на билетите: 20, 25, 30 лв.
Кино Люмиер, Дом на киното, Филмотечно кино "Одеон", Влайкова, Френски институт, Културен център G 8, Euro Cinema: 10 лв.Намаление за ученици, студенти и пенсионери – 8 лв.
Човешкият глас и Класически удоволствия: 7 лв. Намаление за ученици, студенти и пенсионери – 5 лв.
Билетен център НДК, София, площад "България" 1
Телефони: (+359 2) 916 63 68, 916 63 69
Билети онлайн в Електронен билетен център - НДК
VR мания. Билетът е за 45 минути гледане на произведения по избор на зрителя. Сеансите са на всеки 30 минути. Цена – 20 лв.
Mascarade
director and screenwriter – Nicolas Bedos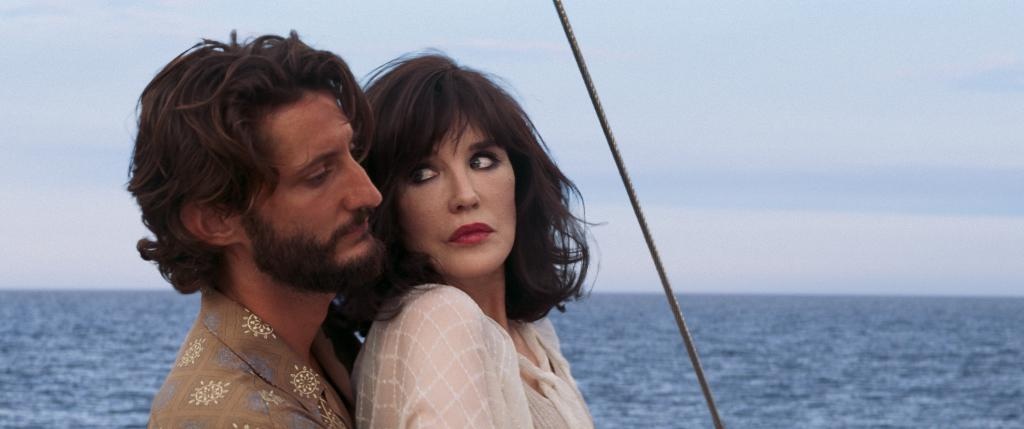 Trailer
Mascarade
France, 2022, 142 min.
director and screenwriter – Nicolas Bedos
producers – Francois Kraus and Denis Pineau-Valencienne
camera – Laurent Tangy
editors – Anny Danche and Clement Selitzki
music – Anne-Sophie Versnaeyen
production designer – Stephane Rozenbaum
A LES FILMS DU KIOSQUE/PATHE FILMS production
intl. sales – PATHE
BG distributor – BETA FILM
selections:
Cannes – Closing Gala
cast:
Pierre Niney (Adrien), Isabelle Adjani (Martha), Frabcois Cluzet (Simon), Marine Vacth (Margot), Emmanuelle Devos (Carole), Laura Morante (Jeanne), Charles Berling (Jean-Charles)
Adrien, an attractive dancer whose career was shattered by a motorbike accident, wastes his youth in the laziness of the French Riviera, where he is looked after by Martha, a former movie star. Adrien's life is turned upside down when he meets Margot, a captivating beauty who lives for the thrill of scams and romantic entanglements. Together, they fantasise about a better life and set up a diabolical scheme, an emotional masquerade.
Screenings:


Saturday, 19 November 2022, 19:30, Odeon
Sunday, 20 November 2022, 19:00, Lumiere - Buy a Ticket Online
Saturday, 26 November 2022, 19:30, Vlaykova - Buy a Ticket Online
Sunday, 27 November 2022, 15:45, G8
Tuesday, 29 November 2022, 19:45, Cinema House - Buy a Ticket Online

Ticket Centre at National Palace of Culture, Sofia, 1, Bulgaria Square, T: +359 2 916 63 69
Lumiere, 1, Bulgaria Square, T: +359 2 916 6300
Cinema House, 37, Ekzarch Yosiff Str., T: +359 2 980 7838
Odeon, 1, Patriarch Evtimii Blvd, +359 2 989 24 69
Vlaykova, 11, Tsar Ivan Assen II Str, T: +359 892 22 68 68
French Institute, 3, Slaveykov Square, T: +359 2 937 79 22
Cultural Center G8, 8, Gladstone Str., T: +359 2 995 00 80
Euro Cinema, 17, Aleksandar Stamboliiski Blvd., T: +359 2 980 41 61

TICKETS:
National Palace of Culture Hall 1 – 14 leva
Reduced price – 12 leva
Lumiere, Cinema House, Odeon, Vlaykova, French Institute, Cultural Center G8, Euro Cinema – 12 leva
Reduced price – 10 leva
Classic Pleasures: 8 leva
Reduced price – 6 leva