TICKETS:
НДК Зала 1: 12 лв. Намаление за ученици, студенти и пенсионери – 10 лв.
Специални събития: Моята страст към киното – вечер на Стефан Вълдобрев. Цени на билетите: 20, 25, 30 лв.
Кино Люмиер, Дом на киното, Филмотечно кино "Одеон", Влайкова, Френски институт, Културен център G 8, Euro Cinema: 10 лв.Намаление за ученици, студенти и пенсионери – 8 лв.
Човешкият глас и Класически удоволствия: 7 лв. Намаление за ученици, студенти и пенсионери – 5 лв.
Билетен център НДК, София, площад "България" 1
Телефони: (+359 2) 916 63 68, 916 63 69
Билети онлайн в Електронен билетен център - НДК
VR мания. Билетът е за 45 минути гледане на произведения по избор на зрителя. Сеансите са на всеки 30 минути. Цена – 20 лв.
My Night at Maud's / Ma nuit chez Maud
director and screenwriter – Eric Rohmer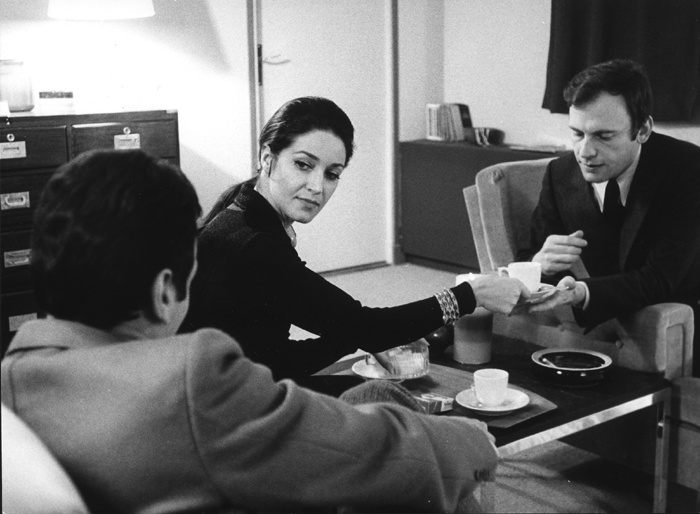 Trailer
My Night at Maud's / Ma nuit chez Maud
France, 1969, 105 min., black & white
director and screenwriter – Eric Rohmer
producers – Pierre Cottrell and Barbet Schroeder
camera – Nestor Almendros
editor – Cecile Decugis
production designer – Nicole Rachline
ALES FILMS DU LOSANGE production
intl. sales - LES FILMS DU LOSANGE
BG distributor – BETA FILM
nominations:
Cannes - Competition
2 nominations for "Oscar" – for foreign language film and original screenplay
cast:
Jean-Louis Trintignant (Jean-Louis), Francoise Fabian (Maud), Marie-Christine Barrault (Francoise), Antoine Vitez (Vidal) and with special appearance by the violinist Leonid Kogan as himself
Clermont Ferrand, a few days before Christmas. The young engineer Jean-Louis, recently returned from abroad, notices a young blond woman during mass and decides that she will become his wife. By chance, he meets Vidal, a friend, who invites him to spend Christmas Eve with a relative, the divorced Maud. The evening passes in lengthy conversations on marriage, morality, religion, Pascal's philosophy, at first between the three of them, then privately between the two: a mixture of heartfelt confessions and seduction, but respecting the platonic barrier. The next day the engineer manages to meet the blond woman, Francoise. He later proposes marriage to her, but she hesitates because she has just ended her relationship with a married man.
A man and two women - love in French style, shown in a different way from Claude Lelouch. Again, Trintignant plays the main role, but this film combines philosophical reflections on love with chaste intellectual flirtation. Eric Rohmer reveals a delicate poetic style that earns him a place among the classics of sophisticated romantic (and French) cinema.
Screenings:


Sunday, 20 November 2022, 14:15, Cinema House - Buy a Ticket Online
Monday, 21 November 2022, 19:00, Institut Francais
Tuesday, 22 November 2022, 18:00, Odeon
Saturday, 26 November 2022, 15:00, Lumiere - Buy a Ticket Online

Ticket Centre at National Palace of Culture, Sofia, 1, Bulgaria Square, T: +359 2 916 63 69
Lumiere, 1, Bulgaria Square, T: +359 2 916 6300
Cinema House, 37, Ekzarch Yosiff Str., T: +359 2 980 7838
Odeon, 1, Patriarch Evtimii Blvd, +359 2 989 24 69
Vlaykova, 11, Tsar Ivan Assen II Str, T: +359 892 22 68 68
French Institute, 3, Slaveykov Square, T: +359 2 937 79 22
Cultural Center G8, 8, Gladstone Str., T: +359 2 995 00 80
Euro Cinema, 17, Aleksandar Stamboliiski Blvd., T: +359 2 980 41 61

TICKETS:
National Palace of Culture Hall 1 – 14 leva
Reduced price – 12 leva
Lumiere, Cinema House, Odeon, Vlaykova, French Institute, Cultural Center G8, Euro Cinema – 12 leva
Reduced price – 10 leva
Classic Pleasures: 8 leva
Reduced price – 6 leva