***
НДК Зала 1: 12 лв. Намаление за ученици, студенти и пенсионери – 10 лв.
Специални събития: Моята страст към киното – вечер на Стефан Вълдобрев. Цени на билетите: 20, 25, 30 лв.
Кино Люмиер, Дом на киното, Филмотечно кино "Одеон", Влайкова, Френски институт, Културен център G 8, Euro Cinema: 10 лв.Намаление за ученици, студенти и пенсионери – 8 лв.
Human Voice and Classic Pleasures: BGN 7. Discount for pupils, students and pensioners - BGN 5.
Ticket Centre at National Palace of Culture, Sofia, 1, "Bulgaria" Square
Phone: (+359 2) 916 63 69
Tickets online
VR mania in Hall 4, National Palace of Culture. The ticket is for 45 minutes of viewing works of the viewer's choice. Sessions are every 30 minutes. Price - BGN 20.
Peaceful / De son vivant
director – Emmanuelle Bercot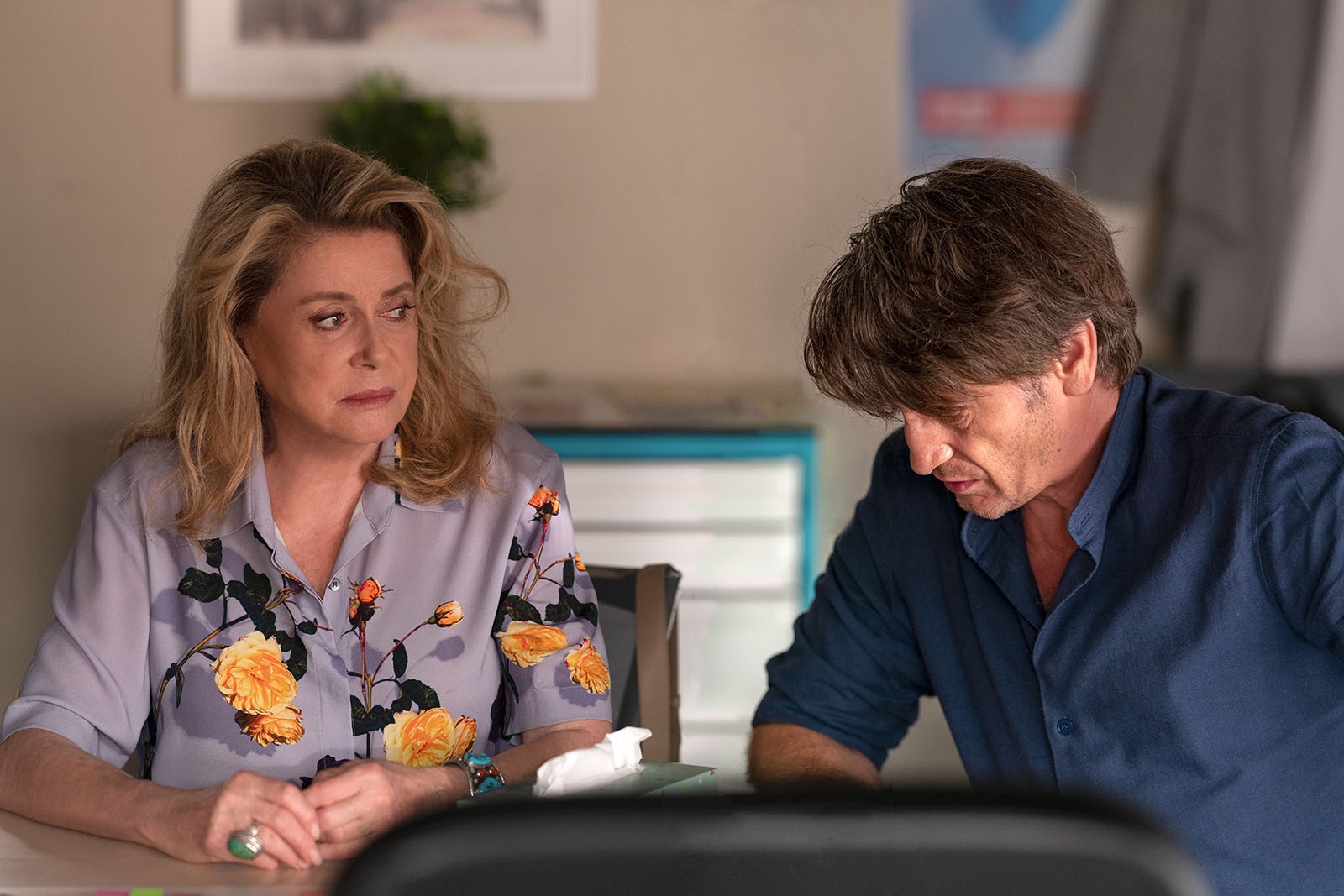 Trailer
Peaceful / De son vivant
France, 2021, 92 min
director – Emmanuelle Bercot
producers – Francois Kraus and Denis Pineau-Valncienne
script – Marcia Romano and Emmanuelle Bercot
camera – Yves Cape
editors – Julien Leloup and Yann Dedet
music – Eric Neveux
production designer – Laurent Ott
A LES FILMS DU KIOSQUE production
intl. sales – STUDIOCANAL
festivals:
Cannes – Official selection
cast:
Benoit Magimel (Benjamin), Catherine Deneuve (Crystal), Cecile de France (Eugenie), Gabriel Sara (Dr. Edde)
40-year-old Benjamin is a confident drama teacher who is diagnosed with pancreatic cancer. He is in the final stage and does not have long to live. However, Benjamin does not really want to believe this. Also, his overprotective and controlling mother Crystal, who is present at the consultation, refuses to accept the fate of her son. In the four seasons that follow, Benjamin tries to cope with his illness by, among other things, having his students play stage scenes about death and saying goodbye. And with the help of the kind-hearted doctor and nurse with whom Benjamin develops a close bond, mother and son are slowly reconciled with the fact that Benjamin's life will soon be over.
Screenings:


Tuesday, 23 November 2021, 18:15, Odeon
Thursday, 25 November 2021, 18:00, Lumiere - BUY A TICKET
Tuesday, 30 November 2021, 19:00, Institut Francais

National Palace of Culture, Hall 1 – 12 leva
Reduced price for retired people
and students –
10 leva
THE BELL – monoperformance of Deyan Donkov –
30, 40, 50 leva
Reduced price – 20 leva

***
French Institute, Cultural Center G8, Euro Cinema – 10 leva
VR screenings – 15 leva
Reduced price – 8 leva
The Human Voice and movies from "Classic Pleasures" – 7 leva