TICKETS:
НДК Зала 1: 12 лв. Намаление за ученици, студенти и пенсионери – 10 лв.
Специални събития: Моята страст към киното – вечер на Стефан Вълдобрев. Цени на билетите: 20, 25, 30 лв.
Кино Люмиер, Дом на киното, Филмотечно кино "Одеон", Влайкова, Френски институт, Културен център G 8, Euro Cinema: 10 лв.Намаление за ученици, студенти и пенсионери – 8 лв.
Човешкият глас и Класически удоволствия: 7 лв. Намаление за ученици, студенти и пенсионери – 5 лв.
Билетен център НДК, София, площад "България" 1
Телефони: (+359 2) 916 63 68, 916 63 69
Билети онлайн в Електронен билетен център - НДК
VR мания. Билетът е за 45 минути гледане на произведения по избор на зрителя. Сеансите са на всеки 30 минути. Цена – 20 лв.
Confidentially Yours / Vivement dimanche!
director – Francois Truffaut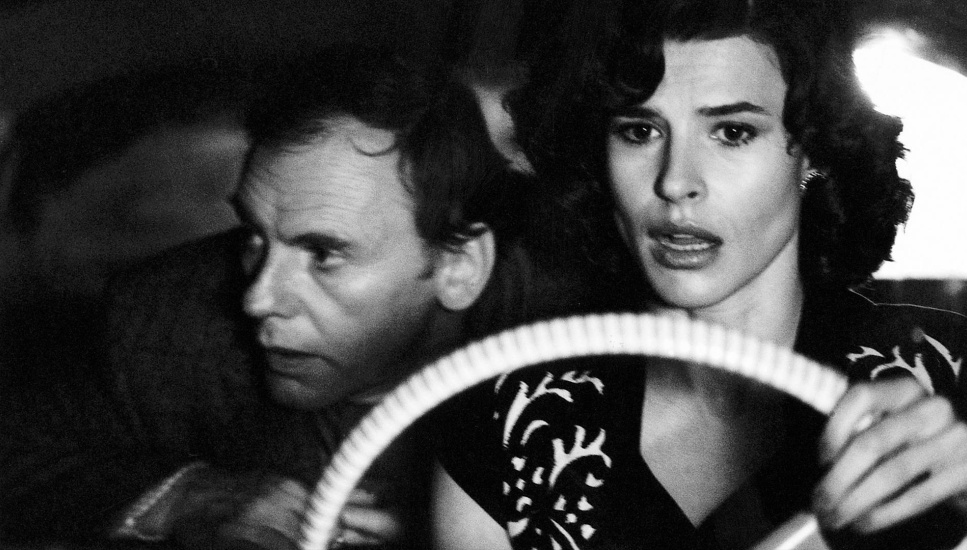 Trailer
Confidentially Yours / Vivement dimanche!
France, 1983, 110 min., black & white
director – Francois Truffaut
producer – Armand Barbault
script – Suzanne Schiffman, Jean Aurel and Francois Truffaut
based on the novel "The Long Saturday Night" by Charles Williams
camera – Nestor Almendros
editor – Martine Barraque
music – Georges Delerue
production designer – Hilton McConnico
costume designer – Michele Cerf
A LES FILMS DU CARROSSE/FILMS A2/SOPROFILMS production
nominations:
Nomination for BAFTA for best foreign language film
2 nominations for "Cesar" – for best direction and actress to Fanny Ardant
cast:
Fanny Ardant (Barbara Becker), Jean-Louis Trintignant (Julien Vercel), Jean-Pierre Kalfon (Massoulier), Jean-Louis Richard (Louison), Caroline Silhol (Marie-Christine Vercel)
During a hunting trip, Claude Massoulier becomes the victim of a murder. The suspect is Julien Versel, whose wife Marie-Christine was the murdered man's mistress. When the violent death also catches up with Marie-Christine, Julien stages a departure abroad and hides in the office of his real estate firm. His secretary, Barbara Becker, leads an investigation on his behalf. Will she be able to get her boss out of the clutches of the police...?
Truffaut's career comes to an end with this seemingly strange film that challenges the unprepared viewer's expectations. Contrary to the tradition of film noir, here the lead is given to a woman, and the men are floating along in constant delusion. Fanny Ardant steps out of her tragic role and indulges in fantasizing and humor. It's a film that allows the director and actors really to enjoy the pleasure of their acting.
Screenings:


Sunday, 20 November 2022, 19:00, Institut Francais
Thursday, 24 November 2022, 18:00, Odeon
Sunday, 27 November 2022, 15:15, Lumiere - Buy a Ticket Online
Sunday, 4 December 2022, 14:30, Cinema House - Buy a Ticket Online

Ticket Centre at National Palace of Culture, Sofia, 1, Bulgaria Square, T: +359 2 916 63 69
Lumiere, 1, Bulgaria Square, T: +359 2 916 6300
Cinema House, 37, Ekzarch Yosiff Str., T: +359 2 980 7838
Odeon, 1, Patriarch Evtimii Blvd, +359 2 989 24 69
Vlaykova, 11, Tsar Ivan Assen II Str, T: +359 892 22 68 68
French Institute, 3, Slaveykov Square, T: +359 2 937 79 22
Cultural Center G8, 8, Gladstone Str., T: +359 2 995 00 80
Euro Cinema, 17, Aleksandar Stamboliiski Blvd., T: +359 2 980 41 61

TICKETS:
National Palace of Culture Hall 1 – 14 leva
Reduced price – 12 leva
Lumiere, Cinema House, Odeon, Vlaykova, French Institute, Cultural Center G8, Euro Cinema – 12 leva
Reduced price – 10 leva
Classic Pleasures: 8 leva
Reduced price – 6 leva