***
НДК Зала 1: 12 лв. Намаление за ученици, студенти и пенсионери – 10 лв.
Специални събития: Моята страст към киното – вечер на Стефан Вълдобрев. Цени на билетите: 20, 25, 30 лв.
Кино Люмиер, Дом на киното, Филмотечно кино "Одеон", Влайкова, Френски институт, Културен център G 8, Euro Cinema: 10 лв.Намаление за ученици, студенти и пенсионери – 8 лв.
Human Voice and Classic Pleasures: BGN 7. Discount for pupils, students and pensioners - BGN 5.
Ticket Centre at National Palace of Culture, Sofia, 1, "Bulgaria" Square
Phone: (+359 2) 916 63 69
Tickets online
VR mania in Hall 4, National Palace of Culture. The ticket is for 45 minutes of viewing works of the viewer's choice. Sessions are every 30 minutes. Price - BGN 20.
Respect
director – Liesl Tommy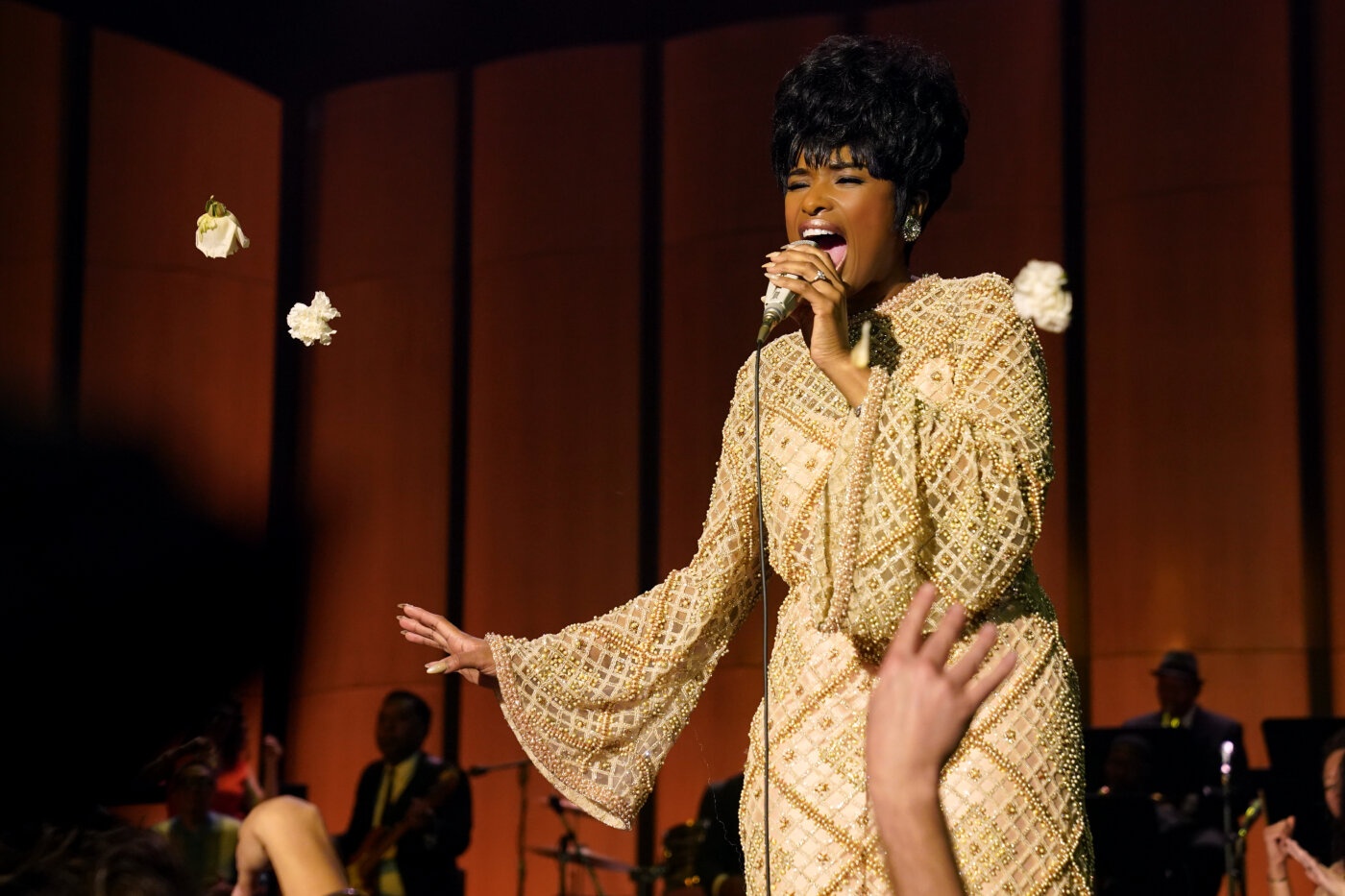 Trailer
Respect
USA, 2021, 145 min
director – Liesl Tommy
producers – Harvey Mason Jr., Scott Bernstein, Jonathan Glickman and Stacy Sher
script – Tracey Scott Wilson
camera – Kramer Morgenthau
editor – Avril Beukes
music – Kris Bowers
production designer – Ina Mayhew
costume designer – Clint Ramos
A METRO-GOLDWYN-MAYER/BRON CREATIVE/ONE COMMUNITY/
CHISLEHURST ENT./HARVEY MASON MEDIA/GLICKMANIA ENT. production
intl. sales – METRO-GOLDWYN-MAYER
BG distributor – FORUM FILM
festivals:
Locarno – "Piazza Grande"
cast:
Jennifer Hudson (Aretha Franklin), Forest Whitaker (C.L. Franklin), Marlon Wayans (Ted White), Audra McDonald (Barbara), Marc Maron (Jerry Wexler), Tituss Burgess (James Cleveland), Mary J. Blige (Dinah Washington), Heather Headley (Clara Ward), Kimberly Scott (Mama Franklin), Tate Donovan (John Hammond), Gilbert Glenn Brown (Martin Luther King Jr.), Vance Taylor (Art Tatum), Kelvin Hair (Sam Cooke)
Following the rise of Aretha Franklin's career from a child singing in her father's church's choir to her international superstardom, Respect is the remarkable true story of the music icon's journey to find her voice.
"Respect gives you [Franklin's] music, with its passion and power, lyricism and schmaltz. Long after they fell off the charts, these are songs that light you up – with feelings, memories – when you hear them."
Manohla Dargis, The New York Times
"Whether it's in a nightgown or in the full, glorious regalia Aretha Franklin adorned in her concert appearances, Hudson performs with the same tireless intensity Re was known for throughout her career. It's a damn good performance and this is a damn entertaining movie."
Odie Henderson, RogerEbert.com
Screenings:


Friday, 19 November 2021, 19:30, Vlaykova
Saturday, 20 November 2021, 19:30, Odeon
Sunday, 21 November 2021, 16:30, Cinema House - BUY A TICKET
Friday, 26 November 2021, 19:00, Lumiere - BUY A TICKET
Saturday, 27 November 2021, 17:15, G8
Sunday, 28 November 2021, 15:45, Euro Cinema
Saturday, 4 December 2021, 18:30, Lumiere - BUY A TICKET

National Palace of Culture, Hall 1 – 12 leva
Reduced price for retired people
and students –
10 leva
THE BELL – monoperformance of Deyan Donkov –
30, 40, 50 leva
Reduced price – 20 leva

***
French Institute, Cultural Center G8, Euro Cinema – 10 leva
VR screenings – 15 leva
Reduced price – 8 leva
The Human Voice and movies from "Classic Pleasures" – 7 leva