***
НДК Зала 1: 12 лв. Намаление за ученици, студенти и пенсионери – 10 лв.
Специални събития: Моята страст към киното – вечер на Стефан Вълдобрев. Цени на билетите: 20, 25, 30 лв.
Кино Люмиер, Дом на киното, Филмотечно кино "Одеон", Влайкова, Френски институт, Културен център G 8, Euro Cinema: 10 лв.Намаление за ученици, студенти и пенсионери – 8 лв.
Human Voice and Classic Pleasures: BGN 7. Discount for pupils, students and pensioners - BGN 5.
Ticket Centre at National Palace of Culture, Sofia, 1, "Bulgaria" Square
Phone: (+359 2) 916 63 69
Tickets online
VR mania in Hall 4, National Palace of Culture. The ticket is for 45 minutes of viewing works of the viewer's choice. Sessions are every 30 minutes. Price - BGN 20.
My Heart Goes Boom! / Explota Explota
director – Nacho Alvarez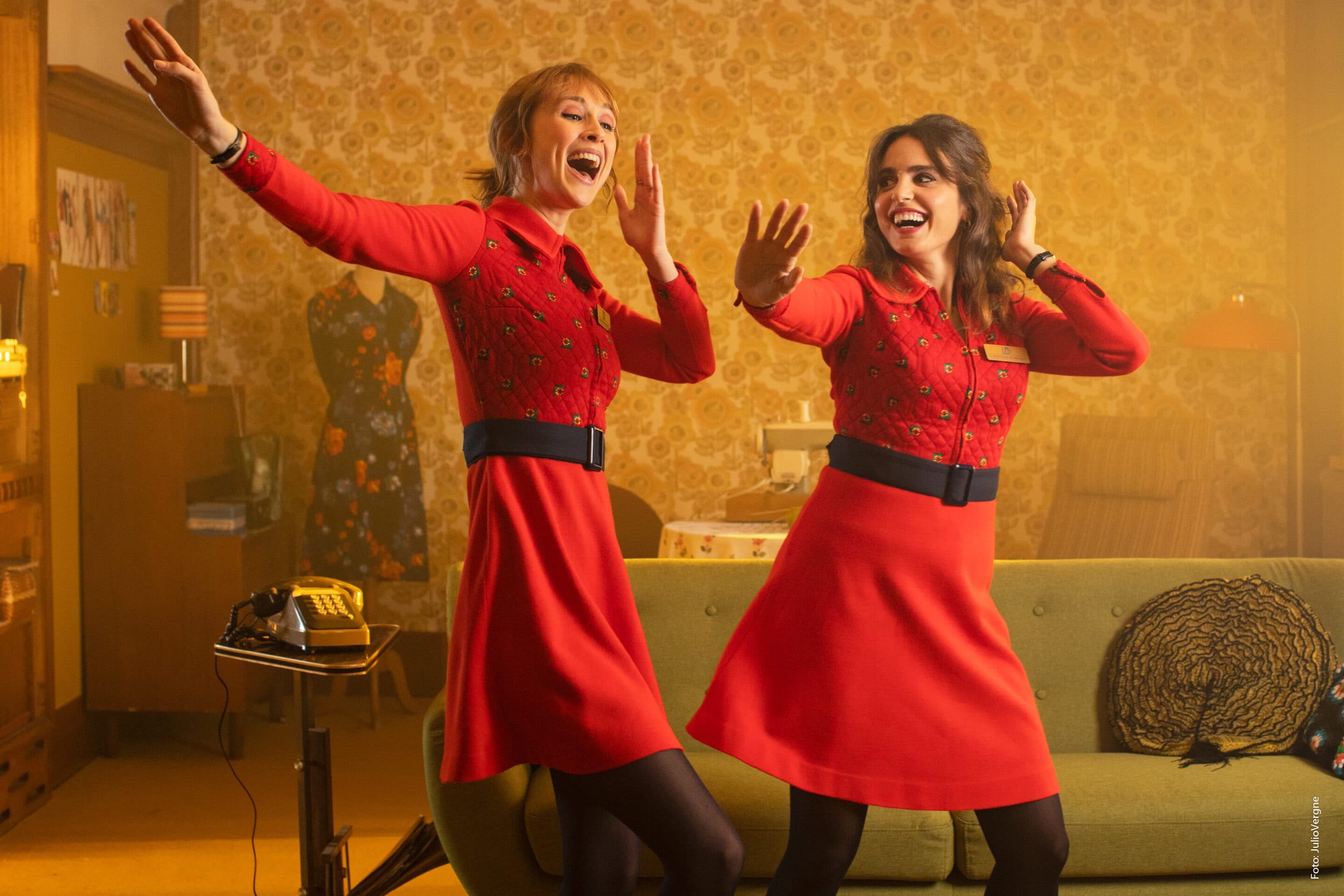 Trailer
My Heart Goes Boom! / Explota Explota
Spain-Italy, 2020, 116 min
director – Nacho Alvarez
producers – Mariela Besuievsky, Gerardo Herrero and Javier Lopez Blanco
script – Eduardo Navarro, David Esteban Cubero and Nacho Alvarez
camera – Juan Carlos Gomez
editor – Irene Blecua
music – Roque Banos
production designer – Uxua Castello
costume designer – Cristina Rodriquez
choreogtaphy – Toni Espinosa
A TORANSOL/INDIGO FILM/RAI CINEMA/EL SUSTITUTO PRODUCCIONES/
RTVE co-production
intl. sales – LATIDO
BG distributor – BETA FILM
nominations:
3 nominations for "Goya" – for supporting actress to Veronica Echegui, costumes and makeup & hairstyles
cast:
Ingrid Garcia Jonsson (Maria), Veronica Echegui (Amparo), Fernando Guallar (Pablo), Pedro Casablanc (Celedonio), Fernando Tejero (Chimo), Natalia Millan (Rosa)
Young dancer María leaves her fiancé at the altar in Rome, returning to her native Spain to chase her dreams of TV stardom. Initially finding work as an air hostess, a lucky encounter with a producer seems to provide the path to the screen she has always desired. However, with 1970s Spain still in the grip of Franco's regime, María must push to maintain her artistic freedom; all while balancing one romance from the past and another from the future.
Set to the exuberant songs of the late, great Italian singer Raffaella Carrà, My Heart Goes Boom! is an explosion of colour, costume and comedy. Uruguayan filmmaker Nacho Álvarez takes centre stage with his first directorial feature, corralling a succession of set pieces with confidence across weddings, break-ups, and several complicated dance numbers. Dance your way to the cinema, to watch this wonderful musical on the big screen!
Screenings:


Saturday, 20 November 2021, 14:45, G8
Sunday, 21 November 2021, 16:45, Odeon
Monday, 22 November 2021, 20:00, Vlaykova
Saturday, 27 November 2021, 19:30, Lumiere - BUY A TICKET
Tuesday, 30 November 2021, 19:00, Euro Cinema
Wednesday, 1 December 2021, 18:15, Cinema House - BUY A TICKET

National Palace of Culture, Hall 1 – 12 leva
Reduced price for retired people
and students –
10 leva
THE BELL – monoperformance of Deyan Donkov –
30, 40, 50 leva
Reduced price – 20 leva

***
French Institute, Cultural Center G8, Euro Cinema – 10 leva
VR screenings – 15 leva
Reduced price – 8 leva
The Human Voice and movies from "Classic Pleasures" – 7 leva