Ticket Centre at National Palace of Culture, Sofia, 1, "Bulgaria" Square
Phones: (+359 2) 916 63 00; (+359 2) 916 64 00
Tickets online
|
АХ, ТОЗИ МЮЗИКЪЛ
|
ТАНЦ ФИЛМ ФЕСТ
|
TICKETS
|
What next?
|

The Taming of the Shrew
director – Franco Zeffirelli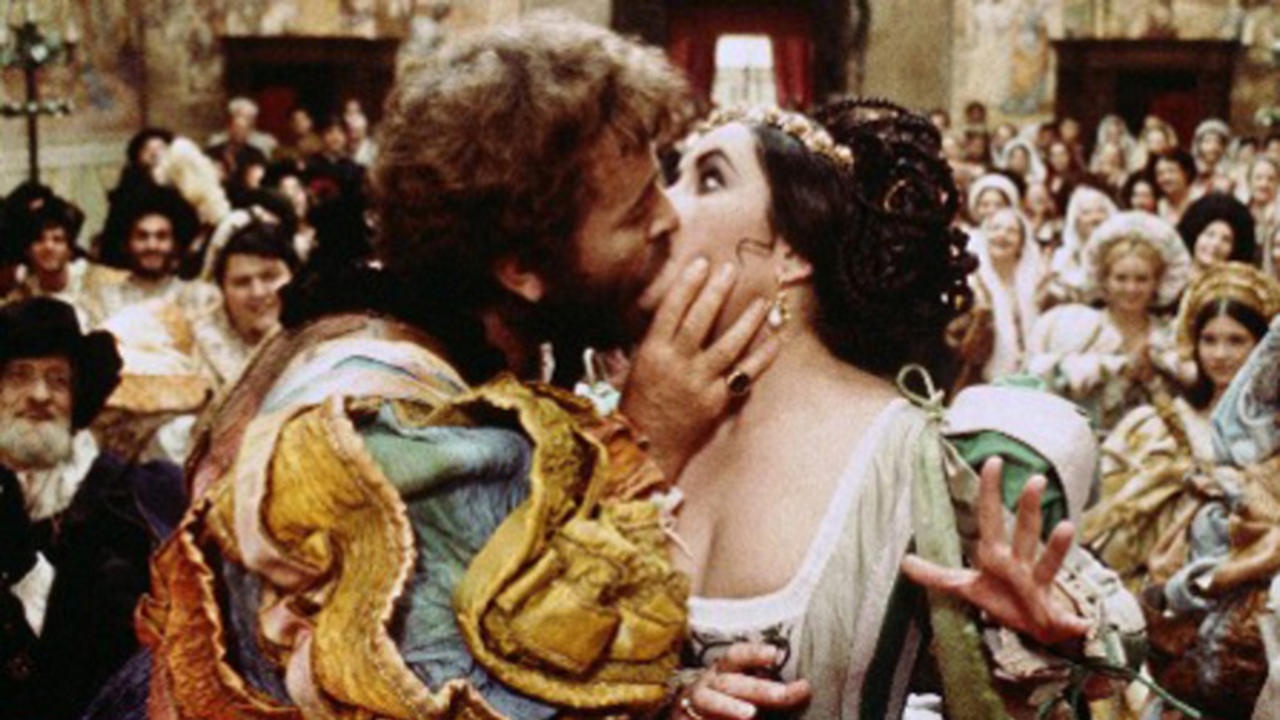 Trailer
USA-Italy, 1967, 126 min
director – Franco Zeffirelli
producers – Richard Burton, Elizabeth Taylor and Franco Zeffirelli
script – Paul Dehn, Suso Cecchi D'Amico and Franco Zeffirelli
based on the play by William Shakespeare
camera – Oswald Morris
editor – Peter Taylor
music – Nino Rota
production designer – Renzo Mongiardino
costume designer – Danilo Donati
A COLUMBIA PICTURES/ROYAL FILMS INTERNATIONAL/F.A.I. co-production
awards and nominations:
Award of the Italian Film Journalists for costume design
2 nominations for "Golden Globe" – for best comedy and comedy actor to Richard Burton
2 nominations for "Oscar" – for production design and costume design
cast:
Elizabeth Taylor (Katharina), Richard Burton (Petruchio), Michael Hordern (Baptista), Natasha Pyne (Bianca), Michael York (Lucentio), Cyril Cusack (Grumio), Victor Spinetti (Hortensio), Mark Dignam (Vincentio)
Instead of simply filming a play, Zeffirelli turned Shakespeare's text into a lively movie, with sweeping sets and cinematography. Set in Padua, Italy in the late 1500s, the story concerns the shy Bianca and the mean-spirited Katarina, the two daughters of a rich merchant named Baptista. Though Bianca is being courted by a number of young men, Baptista announces that she may not marry until Katarina is wed. None of the men in town are willing to marry Katarina, so Bianca remains unwed, even as more suitors line up to wed the maiden. No man approaches Katarina until Petruchio – a wanderer who arrived in Padua just to find a rich wife – falls in love with her. After an intense, occasionally furious, courtship, Katarina eventually agrees to marry him, and they move to Petruchio's shoddy house, which is located outside of the city. Following the wedding, Lucentio gets permission to marry Bianca and a mild-mannered Katarina shows up at the wedding, giving advice to her sister on how to be a good wife.
Screenings:
Saturday, 9 November 2019, 19:00, Lumiere Lidl -
Buy a ticket online
Sunday, 10 November 2019, 15:45, Odeon
Saturday, 23 November 2019, 15:30, Cinema House -
Buy a ticket online
Sunday, 24 November 2019, 16:30, Euro Cinema -
Buy a ticket online
Ticket Centre at National Palace of Culture, Sofia, 1, "Bulgaria" Square
Phones: (+359 2) 916 63 00; (+359 2) 916 64 00
Working time:
Monday - Friday: 09:00 - 20:30 h
Saturday & Sunday: 10:00 to 20:00 ч.