Ticket Centre at National Palace of Culture, Sofia, 1, "Bulgaria" Square
Phones: (+359 2) 916 63 00; (+359 2) 916 64 00
Working time:
Monday - Friday: 09:00 - 20:30 h
Saturday & Sunday: 10:00 to 20:00 ч.
Tickets online
There's No Place Like Home / A casa tutti bene
director – Gabriele Muccino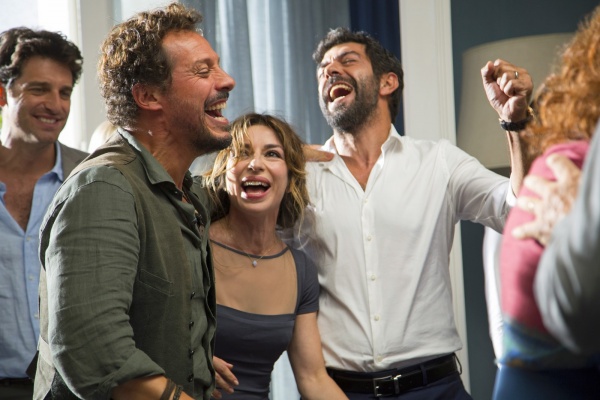 Trailer
Italy, 2018, 105 min
director – Gabriele Muccino
producer – Marco Belardi
script – Paolo Genovese and Paolo Costella
camera – Shane Hurlbut
editor – Claudio Di Mauro
music – Nicola Piovani
art director – Tonino Zera
A LOTUS PRODUCTION/RAI CINEMA production
intl. sales – INDIE SALES
cast:
Stefano Accorsi (Paolo), Pierfrancesco Favino (Carlo), Stefania Sandrelli (Alba), Claudia Gerini (Beatrice), Carolina Crescentini (Ginevra), Valeria Solarino (Elettra), Giampaolo Morelli (Diego), Sabrina Impacciatore (Sara), Elena Cucci (Isabella), Gianmarco Tognazzi (Riccardo), Massimo Ghini (Sandro), Ivano Marescotti (Pietro), Giulia Michelini (Luana), Sandra Milo (Maria)
An unexpected storm strands a family gathered to celebrate the 50th wedding anniversary of their grandparents on the small island of Ischia in Italy. The entire family is forced to live under the same roof for two days and two nights, leading to them rehash unresolved conflicts.
The lives of the siblings, cousins, nieces and nephews become unpreventably intertwined, lingering between a past that revives their unforgotten disputes, a present that reignites discord and a future that appears to be uncertain for everyone. The island morphs into a labyrinth of passion. Each person must reckon with their own personal, sentimental, family, or professional circumstances.
Screenings:
Sunday, 18 November 2018, 18:15, G-8 Cinema
Wednesday, 21 November 2018, 20:30, Cinema House
Friday, 23 November 2018, 18:30, Lumiere Lidl
Tuesday, 27 November 2018, 18:30, Odeon
Ticket Centre at National Palace of Culture, Sofia, 1, "Bulgaria" Square
Phones: (+359 2) 916 63 00; (+359 2) 916 64 00
Working time:
Monday - Friday: 09:00 - 20:30 h
Saturday & Sunday: 10:00 to 20:00 ч.
TICKETS:
National Palace of Culture, Hall 1 – 12 lv.; reduction for students and retired people – 10 lv.
Opening Gala – The Time Is Ours – 10/8 lv.
Cinema Lumiere, Cinema House, Cinema Odeon, G8 and Euro Cinema – 10/8 lv.
Children Films – 7/5 lv.
Bulgarian Premieres – Away from the Shore, Living Chimneys, My Sister's Silence – 8/5 lv.
Bergman's Retrospective and program "Classic Pleasures" – 7/5 lv.
NPC Tickets Online