Ticket Centre at National Palace of Culture, Sofia, 1, "Bulgaria" Square
Phones: (+359 2) 916 63 00; (+359 2) 916 64 00
Working time:
Monday - Friday: 09:00 - 20:30 h
Saturday & Sunday: 10:00 to 20:00 ч.
Tickets online
High Life
director – Claire Denis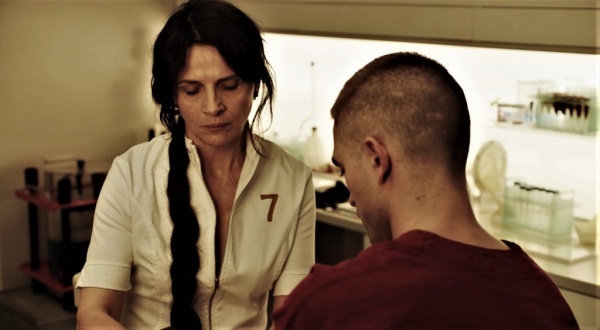 Trailer
Germany-France-USA-UK-Poland, 2018, 113 min
director – Claire Denis
producers – Andrew Lauren, D.J. Gugenheim, Claudia Steffen, Christoph Friedel, Laurence Clerc, Olivier Thery Lapiney, Oliver Dungey and Klaudia Smieja
script – Claire Denis and Jean-Pol Fargeau
with the collaboration of Geoff Cox and additional writing by Andrew Litvack
camera – Yorick Le Saux
editor – Guy Lecorne
music – Stuart A. Staples
production designers – Olafur Eliasson and Francois-Renaud Labarthe
A PANDORA FILM PRODUKTION/ALCATRAZ FILMS/THE APOCALYPSE FILM COMPANY/MADANTS co-production
intl. sales – WILD BUNCH
BG distributor – 6А MEDIA ENTERTAINMENT
awards:
San Sebastian – FIPRESCI Award
cast:
Robert Pattinson (Monte), Juliette Binoche (Dr. Dibs), Andre Benjamin (Tcherny), Mia Goth (Boyse), Lars Eidinger (Chandra), Agata Buzek (Nansen), Victor Banerjee (Professor)
There's a reason Claire Denis inspires abiding fandom among cinephiles. As a filmmaker, she is completely free. She has made love stories, crime movies, even horror. Her films are intensely focused on the truth of human behaviour wherever that may take her protagonists. So, it is both perfectly normal and pleasantly surprising that Denis would set her newest film in space.
The destination is the black hole within closest reach of Earth. The spaceship's crew is a collection of dangerous prisoners, last-chancers with nothing left to lose. At first Monte is the only crew member awake, rigorously tending to the ship to keep them all alive as they hurtle through space. But Monte is also caring for a baby daughter, born on board. This anomaly is only the first sign of the chaos to come.
As Monte's self-discipline slips, the crew awakens and conflicts erupt. In the years since the Twilight series, Pattinson has sought out increasingly challenging roles with some of the world's best filmmakers. Here, Denis uses both the beauty and the enigma he presents to the camera to electric effect. Working again with the brilliant Juliette Binoche, supported by a cast that includes André Benjamin and Mia Goth, Denis guides her actors into daring new territory. Some scenes in High Life may shock, but they are only steps on the path to the revelation this film offers. Denis pushes her own space exploration into realms that at times recall the science fiction of Stanley Kubrick and Andrei Tarkovsky.
Screenings:
Thursday, 22 November 2018, 18:30, Cinema House
Monday, 26 November 2018, 20:45, Odeon
Wednesday, 28 November 2018, 20:45, Lumiere Lidl
Ticket Centre at National Palace of Culture, Sofia, 1, "Bulgaria" Square
Phones: (+359 2) 916 63 00; (+359 2) 916 64 00
Working time:
Monday - Friday: 09:00 - 20:30 h
Saturday & Sunday: 10:00 to 20:00 ч.
TICKETS:
National Palace of Culture, Hall 1 – 12 lv.; reduction for students and retired people – 10 lv.
Opening Gala – The Time Is Ours – 10/8 lv.
Cinema Lumiere, Cinema House, Cinema Odeon, G8 and Euro Cinema – 10/8 lv.
Children Films – 7/5 lv.
Bulgarian Premieres – Away from the Shore, Living Chimneys, My Sister's Silence – 8/5 lv.
Bergman's Retrospective and program "Classic Pleasures" – 7/5 lv.
NPC Tickets Online